Irish novelist George Moore famously wrote, "A man travels the world over in search of what he needs and returns home to find it." Des Moines native Cole Norum, JO'16, found this to be true—at least with regard to higher education.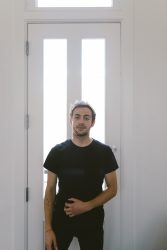 Norum was student body president at Roosevelt High School, where he graduated as valedictorian while also receiving an International Baccalaureate diploma from Central Academy. He enrolled in New York University's highly selective film and television program, but after attending for a year, he withdrew due to a lack of financial aid. He transferred to the Eugene Lang College of Liberal Arts at The New School, but it didn't feel like the right fit either.
While on the east coast, he came to appreciate his hometown—so much so that he inked Des Moines' latitudinal and longitudinal coordinates on his arm. He returned home, and after spending a spring and summer as a barista he enrolled at Drake, where his father, Chris Bates, earned a Master of Business Administration in 1999 and his grandfather, Dennis Bates, was a faculty member and administrator from 1971 to 1979.
Two years later, he knows it was the right call.
"I'm fundamentally a different person because of Drake, profoundly for the better," said Norum, who majored in news & internet. "I'm more curious and more confident—and I'm more confident that my curiosity will lead to fruitful opportunity, to a rich intellectual life, a more fulfilling social life, and a more validating creative career."
From the moment he arrived on campus, Norum dived into every opportunity he could find. Digital camera in-hand, he captured vivid images that brought humanity and emotion to a Drake Magazine cover story about human trafficking. With pen and paper, he introduced The Times-Delphic readers to Drake's new president and educated students about the dangers of hazing in fraternities and sororities. From snippets of audio, he built an interactive web story for Urban Plains about how hip-hop artists compose a complex beat.
"He took every opportunity that bubbled up in front of him," said his faculty adviser, Jill Van Wyke, associate professor of journalism and mass communications. "Everything that gave him a chance to practice his craft and work with other inspired, creative people. He made his mark immediately."
His work garnered him regional and national awards. But more importantly it gave him the freedom to learn, explore, fail, try again, improve, succeed. Small class sizes and intensive collaboration exposed him to humbling (but constructive) feedback from his peers. Autonomy over his storytelling subjects empowered him to explore, as he puts it, "things that are far beyond my ability to fathom, to reconcile, to immediately understand."
Every aspect of Drake life — from academics to extracurricular activities— is designed to encourage such experimentation.
"That's one of the things we do really well here at Drake: If you want to do something, you can do it," explains Van Wyke. "You don't have to wait until you're a junior, or a senior, or a graduate student, or whatever. Students arrive with a unique set of skills and a vision for what they want to do, and we're nimble and inviting enough to accommodate them."
And once Drake students graduate, they truly are citizens of the world. Norum will embark on his next adventure this fall, as one of 13 young American journalism students and professional journalists selected to participate in the U.S. Fulbright Commission's Berlin Capital Program. The week-long program, Nov. 13–19, allows participants to visit German media outlets, political institutions, and cultural landmarks.
The application process required five writing samples, two essays, and a letter of recommendation. Van Wyke and Kathleen Richardson, dean of the School of Journalism and Mass Communication, helped Norum get his paperwork in order. The Student Records office expedited the process of preparing his final transcript.
"Everyone came together to help me," Norum says. "They believed in me. They knew I would seize this opportunity, appreciate it, and be humbled by it. This is exactly why I love and am so grateful for Drake."
He has so many questions that he'd like to explore during the Fulbright trip: How did the German media cover the United Kingdom's departure from the European Union? How do journalists balance deference to authority against a critical eye toward Chancellor Angela Merkel? Do media outlets encourage public dialogue in their articles' comment sections, and if so, do they become the "cesspool of diatribe and demagogue" often found in the public forums opened by American media?
These questions have no immediate application to the work he's been doing since he graduated—he's currently producing hip-hop videos for artists in Des Moines. But no matter.
After much exploration, Norum found his home at Drake. Now Drake is sending him back out into the world, with professional and personal opportunities bound only by the limits of his curiosity.
"I'm not doing this trip for prospective employers, or to get into grad school," Norum says. "It's a bridge between a decade-plus of academia and my decades-long existence post-college; and I hope it will better me as a thinker, a doer, a creator, and a learner. I'll always be a student, regardless of whether I'm in the classroom or not."