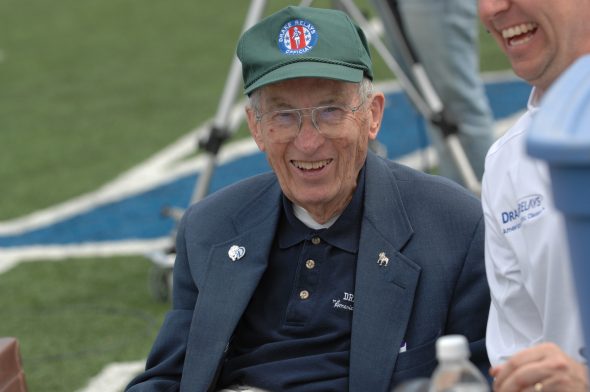 This year is Drake Athletics' official Year of the Fan, and it's only fitting that Paul Morrison serves as the inspiration. As he looks toward his 100th birthday, it's almost inconceivable that any Drake Bulldogs aficionado could surpass "Mr. Drake" for loyalty and longevity.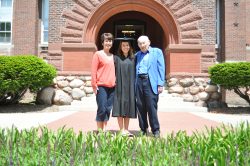 The numbers speak volumes: Morrison has attended more than 700 Drake football games, held court at 79 runnings of the Drake Relays, and counts 14 members of his family as Drake alumni. (That's in addition to Morrison himself, who earned a degree in journalism in 1939.)
He's such an integral part of the Drake landscape that the half-mile stretch of road running past the entrance of the Knapp Center and Drake Stadium bears his name—Paul F. Morrison Way.
Drake Athletics' Year of the Fan commemorates the year leading up to Morrison's 100th birthday on July 25, 2017; a celebration of a "lifelong love affair" between Drake University and the man often known simply as Mr. Drake.
Every sport will join in the festivities, with each team holding one open practice and selecting one game as its Year of the Fan game. Staff members and coaches will each honor Morrison with one day of volunteerism in Des Moines.
Student-athletes, coaches, and staff, will perform random acts of kindness in the community. Every act will be accompanied by a business card sized note asking fans to "pay it forward" on behalf of Morrison.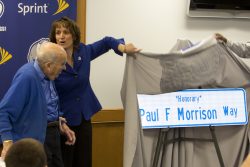 While the Drake community is dedicating a year to Paul Morrison, the man has dedicated a lifetime to the University. His parents, Marion and Leonta, met at Drake in 1902. He enrolled in 1935, serving as sports editor of The Times-Delphic and working on the staff of the Quax yearbook. He was a member of Chi Delta fraternity, which is now the current Sigma Phi Epsilon chapter.
After earning his journalism degree in 1939, he was drafted into the Army, serving in the Pacific during World War II. Upon his return from the war he worked briefly for The Gazette in Cedar Rapids before being hired in 1945 as Drake's first full-time director of the news bureau. He served as sports information director and athletics business manager during his career, from which he retired in 1986.
The day following his retirement, he returned to work as a full-time volunteer for the athletics department, and he continues to punch the clock when health permits. He serves as the Drake Athletics historian, amassing an incredible archive of material dating to Drake's earliest years. Those archival materials, historically kept in the Fieldhouse, will be transferred to the Cowles Library Archives this year for improved preservation.
More details about Drake Athletics' Year of the Fan and its activities to honor Paul Morrison will be available online via GoDrakeBulldogs.com.