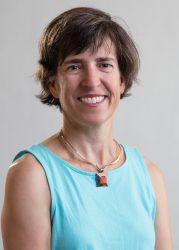 Lisa West, associate professor of English, is one of several faculty members across different universities participating in a scholarship and pedagogy project designed to re-integrate little known authors and out-of-print texts into the classroom. The initiative, Just Teach One, focused last fall on Sincerity, a "novel in letters" by Susanna Rowson that was published in installments in an 1803-1804 magazine. The faculty participants created a WordPress blog for students to share writing across the different campuses, collaborated on possible assignments and curricular issues raised by this text, and wrote about their experiences.
West's blog essay about her experience has been published by Common-place: the Interactive Journal of Early American Life, an online publication featuring interdisciplinary work by scholars, teachers, museum curators, and non-fiction writers. The site is www.jto.common-place.org and the blog can be found by searching under March 2016 or Sincerity. Common-place is jointly published by the American Antiquarian Society, a premier research library, and The University of Connecticut.
In addition, an expanded version of West's essay has been accepted for publication in Legacy: A Journal of American Women Writers. Legacy is holding a special forum dedicated to the recovery of Susanna Rowson's writing and how such recovery work connects scholarship and pedagogy.
Both of West's essays involve substantial references to student work from two different classes: a First Year Seminar and an American Literature course. West will continue to participate in the Just Teach One project by including a controversial memoir of Deborah Sampson in her Literary Study course this fall.