For the fifth year, hundreds of Bulldogs across the nation will take one day to serve their communities.
"There's no better way to spend a day than giving back to my local community, while spending quality time with fellow Bulldogs," said alumnus Drew Gulley, AS'05, who hosts the New York DU Good Day.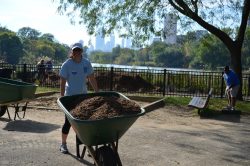 On Saturday, Sept. 17, Drake alumni will once again dedicate their time to different projects for local nonprofit organizations across the nation.
Last year, more than 400 Bulldogs volunteered for nonprofit organizations in 18 locations. This year, alumni will work on projects for Feed My Starving Children in the Twin Cities area, for the Greater Des Moines Habitat for Humanity, and for Feeding America in San Diego. Many more are still being planned.
The day serves as a way for alumni to carry out the mission of their University, long after they are students.
"Responsible citizenship is at the heart of the Drake mission. In fact, most alumni are already heavily involved in serving their communities," said Director of Alumni Relations Dave Remund. "DU Good Day is a special opportunity, though, to come together and work alongside fellow Bulldogs, truly bringing the University's mission to life in a highly impactful way."
DU Good Day By the Numbers

Since it started in 2011, over 1,500 alumni have volunteered over 4,400 hours of their time to organizations during DU Good Day.
Gulley agrees that the day promotes Drake as an institution that cultivates engaged community citizens. "Getting involved gives alumni the opportunity to give back to their communities and reconnect with Drake and fellow alumni—a win in many ways," Gulley said.
For many alumni, the day has turned into a way to reconnect with their fellow Bulldogs.
"I bring my best friend with me who is also a Drake grad, I share on social media, I text all of my Drake friends that they should come," said alumna Pam Nebauer, AS'10. "It's a really fun opportunity to get together again and hang out like we used to. It's also a great way to meet other area alumni in the area."
If you are interested in hosting DU Good Day in your area, please contact Chelsea Ochylski, Assistant Director of Alumni Relations, chelsea.ochylski@drake.edu or (515) 271-3378. To register for this year's DU Good Day, and to see what the projects are, visit alumni.drake.edu/DUGoodDay2016.