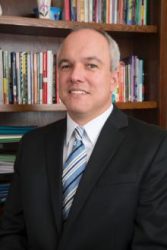 Matt Bruinekool, assistant professor of counseling education in the Drake University School of Education, has been elected to a four-year term with the National Council on Rehabilitation Education (NCRE). The NCRE is the premier professional organization of educators dedicated to quality services for persons with disabilities through education and research, advocating for up-to-date education and training and the maintenance of professional standards in the field of rehabilitation.
Bruinekool will serve his first year as second vice-president and transition through vice-president, president, and past-president roles over the following three years. His term officially begins at the conclusion of the NCRE Fall 2016 Conference held in Washington, D.C., from Oct. 16-18.
Bruinekool has served as the Region VII  representative for NCRE which serves Iowa, Kansas, Nebraska, and Missouri, since 2014. He hopes his national service will bring greater recognition and awareness to Drake's counselor education programs, which include a Master of Science in counseling and academic concentrations in clinical mental health counseling, clinical rehabilitation counseling, and school counseling.
"The position will enable me to provide a variety of opportunities for our students to gain exposure to rehabilitation counselor educators and professionals from around the world," he said.
Bruinekool was the 2015 Madelyn Levitt Distinguished Service Award Recipient. He has served on the Drake University faculty since 1999, and as director of the National Rehabilitation Institute at Drake University since 2000. He teaches courses including Introduction to Counseling; Disability Policy and the ADA; Human Resource Consultation; Advance Placement; Rehabilitation Administration; Program Evaluation; and Strategic Planning. He consults with business and industry on organizational culture, work-life balance, the multi-generational workforce, strategic planning, and the inclusion of individuals with disabilities in the workplace.
In collaboration with Professor of Education Bob Stensrud, Bruinekool has secured more than $7 million for Drake University to provide scholarships to individuals interested in working in the state-federal sector of the rehabilitation counseling profession after graduation.
He currently serves on the editorial board for the Journal of Rehabilitation Administration, is president of the Iowa Rehabilitation Counselors and Educators Association.. He is the Board President for Passageway a Clubhouse Model program serving individuals who are diagnosed with a mental illness. He also serves on the Iowa Statewide Intermediary Steering Committee. He is past president of the Iowa Rehabilitation Association and the Job Development Job Placement Division of the Iowa Rehabilitation Association and was a member of the Iowa Career and Technical Education Taskforce.