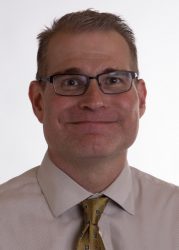 Geoff Wall, professor of pharmacy practice at Drake University, has been named the Next-Generation Pharmacist Health-System Pharmacist of the Year.
Pharmacy Times and Parata Systems, founding partners of the Next-Generation Pharmacist Awards, announced the award recipients during an gala on Aug. 6 in Boston.
Next-Generation Pharmacist is one of the profession's leading national award programs, recognizing outstanding pharmacists, technicians, student pharmacists and industry advocates. More than 500 nominations were received across 11 award categories. Winners exemplify the highest standards of the pharmacy profession and stand as a testament to the role of awardees in helping patients lead healthier lives, according to Pharmacy Times editor-in-chief Troy Trygstad, PH'02, BN'02, chair of an independent panel of judges who evaluated the nominees.
Wall has been an innovative and effective health-system pharmacist and member of the Drake University faculty. He founded and directs the Drug Information Center at Drake University, and has served as a coach for Drake's ACCP Student Clinical Challenge team.
"Dr. Wall actively engages in teaching pharmacy students, pharmacy residents, medical students, and medical residents, receiving the highest evaluations for his teaching," said Dr. Tim Welty, professor of pharmacy practice and chair of the clinical sciences department. "His contributions to the pharmacy profession have clearly advanced the pharmacy program at Drake University."
Wall also serves as a clinical pharmacist for internal medicine and critical care at Iowa Methodist Medical Center (IMMC). In that role, he helped to establish multiple clinical pharmacy services and the IMMC pharmacy practice residency.
Wall's prior community honors include the Iowa Pharmacy Association Hospital Pharmacist of the Year award and the Faculty Teacher of the Year at Iowa Methodist Medical Center. At Drake, he has received the Drake University Granberg Faculty Professional Leadership Award, Madelyn Levitt Mentor of the Year, College of Pharmacy and Health Sciences Preceptor of the Year, and Hartig Distinguished Professor.
Wall received his undergraduate pharmacy degree from the University of Utah, and a Doctor of Pharmacy (PharmD) from Idaho State University. He joined the Drake University faculty in 1999.
Health-system pharmacists include pharmacists who practice in hospitals, health maintenance organizations, long-term care facilities, home care, and other components of health care.
About the Drake University College of Pharmacy and Health Sciences
The Drake University College of Pharmacy and Health Sciences is a diverse community of learners leading the way to a healthy world. Its mission is "Preparing today's learners to be tomorrow's health care leaders." The College offers programs leading to degrees in pharmacy, health sciences, and occupational therapy, with an athletic training program set to launch in fall 2019. More information on the Drake CPHS is available at https://wwww.drake.edu/cphs/about/.