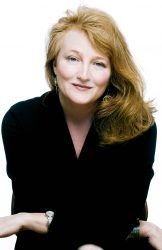 Krista Tippett, an American journalist, author, and talk show radio host known for smartly and sensitively tackling life's toughest questions, will deliver the 37th installment of the Martin Bucksbaum Distinguished Lecture Series at Drake University.
"Becoming Wise: An Evening with Krista Tippett" is scheduled for 7 p.m. Tuesday, Nov. 15, in Drake's Knapp Center. The lecture is free and open to the public; no tickets are required.
Tippett is host of On Being, a Peabody Award-winning public radio program and podcast that traces the mysteries of human existence. Tippett has welcomed countless dignitaries and luminaries—including the 14th Dalai Lama, Maya Angelou, Desmond Tutu, and Yo-Yo Ma—onto the program, which is heard on over 360 public radio stations and averages more than 20 million downloads a year as a podcast.
In addition to being one of the world's leading journalists covering faith and religion, Tippett is also an advocate for civil discourse. Her latest initiative, the Civil Conversations Project, fosters a series of conversations, public events, and resources to help heal the divisions within our communities—which may prove a useful message during this fall Bucksbaum Lecture, delivered just one week after the U.S. presidential election.
"Krista Tippett's calm and reasoned insights about society and the nature of our civil life will be a timely and welcomed antidote to what promises to be a bitter and divisive campaign season," said Neil Hamilton, chair of the Martin Bucksbaum Distinguished Lectureship Committee. "And her masterful skill of drawing on interdisciplinary subjects, to help discover truth and meaning, reflects the blend of liberal arts education and professional preparation that we deliver to students here at Drake University."
Tippett grew up in Oklahoma, attended Brown University, and spent most of the 1980s in divided Germany. She was a staff reporter for The New York Times and also reported for Newsweek, The International Herald Tribune, the BBC, and Die Zeit.
She earned a Master of Divinity from Yale University in 1994 and created the radio program Speaking of Faith, which later became On Being, in 2003 to provide intelligent journalistic coverage of religion. She published her first book, "Speaking of Faith—Why Religion Matters, and How to Talk About it," in 2008.
"She was speaking about the importance of faith and religion in the world, in world affairs, in our communities, and in our personal lives, long before many other journalists were doing so," said Tim Knepper, chair of Drake's Department of Philosophy and Religion. "She draws on interviews with countless luminaries and dignitaries, and she speaks about life so deeply, so well."
Her work underscores the importance of several projects at Drake that seek to expand interfaith dialogue and intercultural understanding in central Iowa. The Comparison Project at Drake University aims to bring greater awareness to the religious diversity of Des Moines through a series of interfaith dialogues and public lectures. Knepper, who directs The Comparison Project, is collaborating with a local photographer and students from several classes to write, design, and publish a photo-book called "Religions of Des Moines," set to publish in Spring 2017.
Tippett will sign her most recent book, "Becoming Wise: An Inquiry into the Mystery and Art of Living," following the lecture.
About the Martin Bucksbaum Distinguished Lecture Series
The Martin Bucksbaum Distinguished Lecture Series is made possible by a gift from the late Melva and Martin Bucksbaum. The Martin Bucksbaum Distinguished Lectureship Committee includes: Neil Hamilton (chair), Julian Archer, James Autry, Pamela Bass-Bookey, Michael Gartner, Janis Ruan, Mary Bucksbaum Scanlon, and Eleanor Zeff.