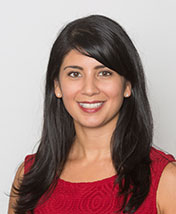 What do religious extremists have in common with the nation's most strident defenders of free speech?
From a constitutional perspective, quite a bit, according to University of Miami School of Law Professor Mary Anne Franks. She'll expound on the similarities during a free public lecture at Drake University Law School next month.
"Guns, Speech, and Sex: The Rise of Constitutional Extremism," is scheduled for 1 p.m. Thursday, Sept. 15, in room 213 of Cartwright Hall, 2621 Carpenter Ave. During her 45-minute lecture, followed by time for public Q&A, Franks will explain how extremists of all political stripes invoke an oversimplified interpretation of the U.S. Constitution to quash reasonable policy discussion designed to protect vulnerable populations.
"In recent years, the Constitution has become an article of faith in the worst possible sense," Franks said. "It is increasingly invoked to justify irrational and destructive agendas in a way that strongly resembles the way religious extremists use the Bible to advance fundamentalist views. This constitutional extremism occurs on both ends of the political spectrum: in the Right's obsessive focus on the Second Amendment and the Left's equally obsessive focus on the First. Though their targets are different, constitutional extremism on both the Right and Left is united in the privileging of the powerful."
The event is sponsored by the Drake Law School's Constitutional Law Center, one of only four such centers established by the federal government. Constitution Day, which annually recognizes the adoption of our nation's Constitution, is observed the following day, Friday, Sept. 16.
"Mary Anne Franks is one of the nation's leading experts on the issue of 'revenge porn,' among many other significant and timely issues that challenge our interpretation of the First Amendment," said Mark Kende, director of the Constitutional Law Center. "She is a Harvard Law graduate, a Rhodes Scholar, a significant player in the nonprofit Cyber Civil Rights Initiative, and a very engaging speaker. It will be an honor to welcome her to Drake Law School."
Franks—who teaches criminal law, criminal procedure, family law, and First Amendment law at the University of Miami—has spoken and written extensively on the issue of nonconsensual pornography, known in popular parlance as "revenge porn." For the past two years, she's worked with civil liberties groups, major organizations within the technology industry, and other stakeholders to draft federal legislation that would make nonconsensual exposure of pornographic material a federal crime. Rep. Jackie Speier, D-Calif., has introduced the bill, titled the Intimate Privacy Protection Act (IPPA).
Prior attempts to criminalize nonconsensual pornography at the federal level have run into tough opposition from free speech advocates, who fear such legislation could have a chilling effect on journalism and public expression. But Franks said there are reasonable ways to accommodate free speech while also providing protections online, particularly for vulnerable populations.
"While the Left is extremely concerned about the potential chilling effects on First Amendment rights, free speech fundamentalists have very little to say about the range of ways women and racial minorities are silenced by sexist and racist harassment, from 'revenge porn' to hate speech," Franks said. "We should be much more reflective about the First Amendment, its complexity, and its limitations."
Similarly, political conservatives often rely on oversimplified understandings of the Second Amendment to halt discussion of legislation that would increase gun safety—particularly, again, for minority populations.
"The Right's passionate defenders of the right to bear arms are notably silent when black men bearing arms are stopped, harassed, and killed by police and when women use firearms to defend themselves against domestic violence," Franks said. "Such selective and self-interested appropriation does not honor either the text or the spirit of the Constitution. Principled commitment to the Constitution must be both grounded in the promise of equal protection and developed through reasoned debate."
Franks graduated from Harvard Law School in 2007, having received her doctorate in 2004 and master's degree in 2001 in Modern Languages and Literature from Oxford University, where she studied on a Rhodes Scholarship. Before she began teaching at UM, Prof. Franks was a Bigelow Fellow and Lecturer in Law at the University of Chicago Law School. Prior to this, Prof. Franks taught social theory and philosophy at Harvard University. In 2013, she was a visiting professor at the University of Navarra in Pamplona, Spain.