Tafangy Sitraka wears many hats. She's an air traffic controller, a practicing physician, and a mother of three children. She also runs a health clinic, which last year provided free or low-cost medical services to about 1,500 people in her home country of Madagascar.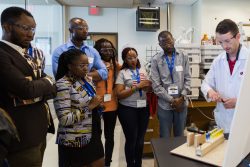 In a nation where more than 56 percent of the population lives below the poverty line, there is much more that Sitraka and her team of 11 clinic workers can accomplish. But for all her talent and drive, she has her limitations.
"I don't have a background in business, or in leadership," Sitraka says. "Since the beginning of the health clinic, we've never done marketing, we've just had people come by word-of-mouth. I've never written a business plan."
Sitraka is one of 25 young professionals from Sub-Saharan Africa who are studying for six weeks at Drake University this summer through the Mandela Washington Fellowship for Young African Leaders, a program sponsored by the U.S. Department of State and administered by its partner organization, IREX.
The Fellowship was created for people just like Sitraka—young people between the ages of 25 and 35 who have accomplished amazing things and demonstrated a passion for service in their home countries, but need to fine tune their business development and leadership skills.
While at Drake, the Fellows are studying business and entrepreneurship. They spend some of their time in classrooms, but a sizable portion of the itinerary is dedicated to site visits to local companies and nonprofit organizations, field trips to cultural landmarks, and meetings with prominent people from the public and private sectors.
"Through the Mandela Washington Fellowship program, Drake is introducing some of the best and brightest young minds in Africa to a set of the most innovative and engaged people in central Iowa," says Annique Kiel, interim executive director of global engagement and international programs. "This is a remarkable example of the power this University has to facilitate international partnerships and to foster intercultural understanding, which are critically important in our global society."
Each of these Fellows has a major challenge they're working to address in their home country—from unemployment to food and water shortages to lack of access to affordable healthcare and education.
Mimshach Obioha, an architect and social entrepreneur from Nigeria, has been particularly inspired by days spent at the Greater Des Moines Botanical Garden, Greater Des Moines Habitat for Humanity, Meals for the Heartland, and Iowa Methodist Medical Center. Each of these nonprofit enterprises provided tangible inspiration for strengthening his own venture, a small business incubator to help young entrepreneurs develop their ideas, bring them to market, and secure funding.
"While in the U.S. I have learned quite a bit about access to funding, about volunteers, about creating sustainable business models around social enterprises," Obioha said. "There isn't any one solution here that we could replicate in Nigeria and it would work perfectly, but we [Fellows] are taking the ideas we're exposed to here in the U.S. and finding out which ones will work back home, which we'll have to modify."
One day the Fellows took a tour of Kemin Industries, a nutritional ingredients manufacturer that does business in North America, South America, Europe, the Middle East, Africa, India, Russia, China, and Asia Pacific. The company's co-founder, R.W. Nelson, LA'65, met the Fellows at the door of their Des Moines headquarters and led them on a three-hour tour of the facility. R.W.'s daughter, Libby—the company's general counsel and secretary—chatted with the Fellows along the way, too.
That kind of personal attention, which followed the Fellows throughout their six weeks in Des Moines, impressed Selam Robi, a 29-year-old architect and urban planner from Ethiopia. She and the other Fellows have extended the formal networking portions of the itinerary into one-on-one time with new American mentors and collaborators—in Robi's case, a colleague who works in urban planning at the Greater Des Moines Partnership.
"I think not just compared to Ethiopia, but compared to other areas in the U.S. as well, Des Moines has been extremely accessible," Robi said. "People are very generous with their time, very open, very kind. The environment is set up here in Des Moines, and especially at Drake, to foster any kind of entrepreneurship. That means a lot."
Beyond the value that Fellows receive from their time at Drake, one current student is also gaining important skills and experience from the program. Drake junior Morgan Springer is serving as an undergraduate coordinator for the Mandela Washington Fellowship, assisting with pre-trip planning as well as the logistics of the Fellows' daily schedule and activities in Des Moines. The in-depth interactions with Fellows, who hail from 19 countries, has supplemented extensive international experiences at Drake, including a job in the Drake International Center, a semester abroad in the Czech Republic, and a three-week trip to study sustainable development in Uganda.
"My experience at the international center, personal travels, and having worked with the YALI team, has shown me just how much enjoy having new experiences and continuously learning about difference cultures," Springer said. "With international business, economics, and environmental policy experience, I can go down a variety of career paths."
This is the first year that Drake has been involved in the four-year-old Mandela Washington Program Fellowship, which is a flagship initiative of President Obama's Young African Leaders Initiative. Drake alumnus Johnnie Carson, LA'65, a former U.S. assistant secretary of state for African affairs and ambassador to Uganda, Zimbabwe, and Kenya, encouraged Drake to apply in 2014; it took two years for Drake to lay the groundwork on campus and with the State Department.
"Drake is well-positioned to serve as an academic institute for the Mandela Washington Fellowship," Carson said, noting that Drake has institutional partnerships with the Makerere University Business School in Uganda, Addis Ababa University in Ethiopia, and the University of KwaZulu-Natal in South Africa, and also demonstrates a commitment to global engagement through a number of centers and programs. More information about Drake's commitment to internationalization and global engagement is available on the Drake International website.
Organizers at Drake carefully selected an extensive set of community partners who would find mutual benefit in meeting the Fellows. For example, the Fellows have visited The World Food Prize, Iowa Soybean Association, and Des Moines Water Works—all of which tackle the same types of challenges that Kenya native Peter Nyamai faces daily.
After graduating from college with a degree in chemical and process engineering, Nyamai landed a lucrative job in product development for a pesticide production company. The work introduced him to a number of farmers, who shared with him some of the country's major challenges in food production and water quality.
After two-and-a-half years, Nyamai left his job and went into business for himself. He runs two companies: one teaches farmers to maximize crop production, and the other builds facilities to capture and store fresh rainwater, giving children and families in rural areas access to clean drinking water—often for the first time in their lives.
"It is evident that Drake University is well-connected with its community," Nyamai said. "We have connected with industries, with organizations, that are making this program truly matter to us."
Gina Nzengue is an advertising professional from Gabon, a French-speaking country in central Africa. She's the founder of a non-governmental organization that provides education for young girls, and her dream is to establish the largest mass media outlet in Gabon's history.
While in Des Moines, she's learning leadership and personal branding skills that will help lead her organization to the next level. She's enjoyed everything about Des Moines, including the Fellows' accommodations in Drake West Village; the new friends with whom she ate, laughed, and went dancing; and the guest lecturers, which included retired U.S. Senator Tom Harkin, Congressman David Young, and Drake alumna Darci Vetter, chief agricultural trade negotiator for the Office of the U.S. Trade Representative.
"Drake is just wonderful," Nzengue said. "In Africa we know Harvard, Yale, that kind of thing. But when you come to Des Moines, you just discover that it's a wonderful place to learn. I want to stay here—but I have lots of things to do in my country, and I have to go back."