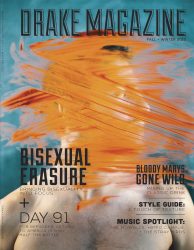 Drake Magazine recently received top honors in the Association of Journalism and Mass Communications' national contest for student-produced magazines, with the judge noting the publication was fit for newsstand.
"I'm gobsmacked by how great this entry is—every bit the equal of many professional city magazines," wrote Scott Burton, executive editor of ESPN The Magazine, who judged the general excellence category of the AEJMC's student magazine contest. "I mean seriously: Wow. Are you sure you all aren't professionals?"
The award went to the publication's fall 2015 issue, which balanced hard news features—including the cover story, "Bisexual Erasure," about harmful stigma toward bisexual individuals—with lighter lifestyle fare, all geared toward readers in the Midwest.
Editor-in-chief Melissa Studach, who's in New York City this summer for an internship with Inc. magazine, was honored to hear an ESPN the Magazine editor praise the professional quality of Drake Magazine. But she wasn't exactly surprised.
"The quality of our work is reflective of the real-world experience, the professional experience, that our staff is getting outside of the classroom and bringing back to the pages of Drake Magazine," said Studach, a senior magazine media major from Springfield, Ill. "In Des Moines we're so lucky to have an endless number of internship opportunities, including at Meredith Corporation, so the majority of the [Drake Magazine] design and editorial staff are not only students, but interns on the side… Sometimes I feel more like a professional than a student."
In addition to receiving the AEJMC contest's top award, Drake nabbed high honors in several categories for three student-produced publications: Drake Magazine, a general-interest print publication open to all Drake University students; The Annual, a yearly print publication that puts a socially conscious slant on arts and culture; and Urban Plains, an online magazine produced by senior magazine media and news majors. The awards will officially be presented at the AEJMC Conference held Aug. 4-7 in Minneapolis.
"Whenever we are honored enough to win one of these awards it is a testament to the hard work and dedication that the students put into these publications," said faculty adviser Jeff Inman, assistant professor of journalism and mass communication. "They always strive to not just make a great student publication, but a world-class one. That's the target they aim for and the results are often incredible."
Students won first-place honors in the category of design (Drake Magazine) and editorial (The Annual), second place for editorial (Drake Magazine), and honorable mention for online magazine (Urban Plains).
Three students won individual awards: Colton Warren, JO'16, won second place for feature-writing; Katie Bandurski, a junior, won third place for new magazine feature ideas; and Cole Norum, JO'16, won honorable mention for first-person article.
Drake's journalism students routinely win prestigious state and local awards. Earlier this year, the Broadcast Education Association (BEA) issued its Best of Festival award for interactive media to Urban Plains. The Iowa College Media Association's competition gave Urban Plains top recognition for best online edition of a student publication; Drake journalism students won 24 other awards for writing, reporting, photography, social media, headlines, graphics, design, and video, during that competition.
In 2015, the AEJMC named Urban Plains its top online magazine, and Think received the Association's top honor for overall excellence in 2014. Dozens of other awards and honors are listed on the Drake SJMC website.