In the well-appointed residence of the U.S. ambassador to China, Max Baucus, wife, Mel Hanes, and more than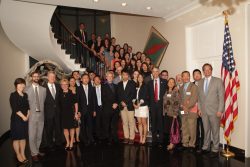 50 dòunioú quǎn—bulldogs—including President Marty Martin, gathered to celebrate the Drake experience that ties them all together. Beneath sparkling chandeliers and near priceless works of art, alumni—three of which flew in from Hong Kong, Singapore, and Australia just for the event—current Chinese students, representatives from Drake's strategic partners, and government officials mingled, enjoyed a vast buffet, and shared stories of Drake.
The May 25 dinner and social gathering marked the beginning of the Friends of Drake in China network, led by alumni Kenn Yu, AS'11, JO'11, and Tyler O'Neil, BN'11, GR'11. While the group is in its infancy, the hope is to host an alumni event annually to help bolster graduates' relationships with Drake. The network is a nod to the growing number of alumni living in China—one of the top countries of origin for international students to the U.S.
Nearly 1 million international students attended college in the United States from 2014 to 2015. Of those students, the vast majority were from Asia. Drake is no exception to this trend, with 63 percent of its international students hailing from China and Malaysia.
The event was part of a weeklong trip by President Martin; board of trustees member Greg Johansen; and Kirk Martin, director of the Chinese Cultural Exchange Program, to the country. The trip included visits to several of the University's partner institutions and a separate alumni brunch.
"This was a great opportunity to build on the relationships that have been created over the years," said President Martin. "We commit ourselves to preparing students for responsible global citizenship at every level, and the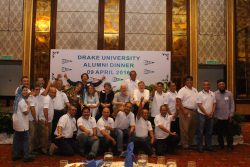 partnerships we have in countries around the world, including China, are tantamount to delivering on that commitment."
Drake's partnerships and programs in China are among its strongest. The Teach in China program has grown exponentially since its inception in 2004, sending 215 graduates of Drake and other nearby universities to teach English in China; Drake sends students and faculty to China to study and teach on an annual basis; and, during the 2015–2016 academic year, 46 Chinese students attended the University. In addition, Drake has partnerships with six institutions throughout the country including Hebei Normal University in Shijiazhuang, Minzu University of China in Beijing, and the Southwest University of Political Science and Law in Chongqing.
"We are working on partnerships that will affect all six colleges and schools from the Law School and graduate programs in the School of Education to enrolling more first-year Chinese students," said Kirk Martin. "It's all part of our consistent focus on bringing a diverse stream of highly-qualified Chinese students to campus."
Further south of China, the country of Malaysia is also a top source of prospective students and partnerships for the University. During the Fall 2015 semester, 122 Malaysian students studied at Drake, primarily in the College of Business and Public Administration.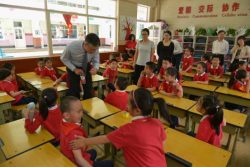 A similar alumni event was held earlier in the spring in a suburb of Kuala Lumpur, Malaysia, the home country of the majority of international students at Drake. More than 100 Drake alumni attended a dinner at the Grand Dorsett Hotel on April 9, representing classes from the 1970s through 2015.
"My favorite part was catching up with friends, especially the ones I have not seen since I left Drake," said Mazlan Junid, BN'87, who helped plan the event. "Making new memories and cherishing the old ones we had when we were at Drake. It was also nice to make new friends, especially among the younger generation."
They were joined by Leslie Mamoorian, associate director, international and graduate admission, and several Drake faculty members.
"We really wanted to jump start a deeper connection with our alumni in Malaysia," said Mamoorian. "We have a critical mass of alumni there and my hope is that we can use this event as a kickoff to create some sort of regional advisory board through which alumni can connect with one another and provide opportunities for current students."