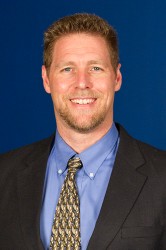 Pyramid Theatre Company has cast Drake alumnus Tom Ahart, superintendent of Des Moines Public Schools, for a guest role in its upcoming production of "A Raisin in the Sun."  The production of Lorraine Hansberry's classic, which stars retired Drake vice provost for student affairs and academic excellence Wanda Everage in the role of Lena Younger (Mama), opens July 8 on Drake's campus.
Ahart, who holds three graduate degrees from Drake including a Doctor of Education, will play the role of Karl Lindner in the July 8 performance. He alternates in the role with Iowa Nice Guy Scott Siepker (July 15) and radio personality Maxwell Schaeffer (July 16).
"A Raisin in the Sun" runs through July 17 at Drake University's Fine Arts Center in the Performing Arts Hall, 2505 Carpenter Ave. Everage said she's glad to step out of retirement for her new adventure as a thespian.
"This is definitely something new for me, but I am excited about the challenge. I spent my entire career telling students to get out of their comfort zone and now I am ready to get out of mine," she said.
Pyramid Theatre Company, co-founded by Drake alumnus Ken-Matt Martin, will complete its season with the premiere of the new play "Hooded, or Being Black for Dummies" by Tearrance A. Chisholm at the Des Moines Social Club's Kum and Go Theater, 901 Cherry St., from July 21-31.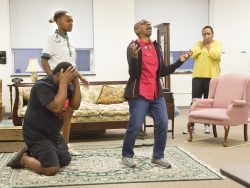 EquiTrust Life Insurance and Pyramid Theatre Company have partnered to provide 200 free tickets to members of U.S. armed forces and veterans. Service men and women and veterans can secure free tickets by visiting the Pyramid Theatre Company website. Last year the producers that founded Pyramid Theatre Company offered a free performance of A Soldier's Play at the Des Moines Social Club to veterans and this year that offer is being expanded to both shows of the season. There are 100 complimentary tickets available throughout the run of each respective show.
"Pyramid has a commitment to education and civic engagement." said Ken-Matt Martin, executive director of PTC. "We aim to use the arts as a catalyst for social change, and access is integral to our mission. Ensuring that we are offering opportunities for the women and men who fight for us is the least we can do."
Tickets for Pyramid's inaugural season are on sale now and prices range from $10 to $30. For more information or to purchase tickets, visit www.pyramidtheatre.org.