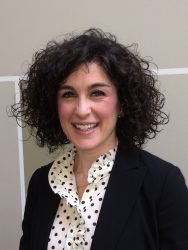 Drake University has hired Anne E. Kremer, an Iowa native with more than 10 years of enrollment management experience, as dean of admission effective Aug. 8.
Kremer, who goes by "Annie," will manage and direct Drake's Office of Admission, which is responsible for enrolling the University's more than 3,300 undergraduate and 1,600 graduate students. She has more than a decade of experience in undergraduate admissions at universities including DePaul, Northwestern, and Bradley.
"Annie's extensive background in higher education—including positions with some of our peer institutions—will serve the University well in this role," said Drake University President Marty Martin. "Her experience makes her an ideal fit for Drake as we focus on new admission priorities, including the recruitment of students for our growing STEM programs."
Under the direction of incoming Deputy Provost Keith Summerville, Kremer will be responsible for the creation, development, and implementation of enrollment goals and strategies.
"Annie has the energy and vision to help Drake University grow enrollment in both our liberal arts and professional programs," Summerville said."The entire Admission team is thrilled to have someone with her leadership skills join our efforts to bring quality students to Drake."
Kremer is currently serving as an associate director of admission at DePaul University in Chicago where she is responsible for managing a team of admission professionals, overseeing the university's welcome center, as well as developing, executing, and assessing DePaul's visit strategy. She managed a budget of $200,000 for on- and off-campus recruitment and developed and implemented an undergraduate visit strategy to accommodate approximately 20,000 visitors each year.
Prior to working for DePaul, Kremer served as a senior assistant director at Northwestern University and an admission counselor at Bradley University. She recently completed a three-year term as president of the Illinois Association for College Admission Counseling, and is a member of the National Association for College Admissions Counseling.
"It is an ideal time to be a part of Drake University," Kremer said. "As a native Iowan, I have always held Drake in the highest regard. It is no secret that this institution prepares students for success—not just in their career, but as positive contributors in a global society. I could not be more excited about joining the Drake community and recruiting students from Iowa, across the country and the world to join such an outstanding university."
Kremer received her Master of Education in higher education administration from Loyola University Chicago and a Bachelor of Science in marketing and management from Iowa State University. Anne and her husband, Michael, have two children, Isabel and Patrick.