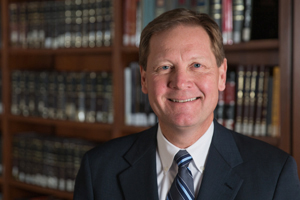 On July 1, Jerry Anderson, the Richard M. and Anita Calkins Distinguished Professor of Law, will take over as dean of Drake Law School.
Anderson is an expert in administrative law, environmental law, and property law. He earned his bachelor's degree at the University of Kansas and his J.D. at Stanford Law School.
Since coming to Drake Law in 1991, Anderson has twice been selected as the Leland Forrest Outstanding Professor of the Year, and he served as associate dean from 1996-2001. He has also co-authored two books on environmental and property law.
What drew you to Drake Law School?
Drake was just getting its environmental program off the ground, and it was a chance to be a part of what that program would look like. So it was a really good opportunity to make a difference, not only in the Law School but also in the larger Iowa environmental community.
What has made you stay at Drake for almost 25 years?
I really believe in Drake's approach to legal education, which focuses not only on theory but practice. Also, I love Iowa. I love living here. I really enjoy the quality of life and the opportunities to be involved.
Why did you want to become dean of Drake Law School?
I've been teaching and researching for many years, and I enjoy those things thoroughly. But this was an opportunity to challenge myself in different ways. Also, I strongly believe in Drake Law School, and I want to help this school in whatever way I can.
What are the challenges Drake Law is facing today?
It's been a time of serious challenges in legal education nationwide, with a significant drop in applications and dramatic changes in the legal market. So the Law School needs to respond to these challenges, and I have some great ideas about how to do that.
What is the first initiative you want to work on as dean?
We're working on a Master's of Jurisprudence (M.J.) in compliance, which I'm really excited about. Everyone knows that we traditionally focus on the J.D. degree, but the marketplace has a need for a more focused degree for people who work in law but don't need to be lawyers. And we're trying to respond to that need with our M.J. degrees.
What are some of your long-term goals for the Law School?
First of all, I want to work on decreasing student debt. My goals also include helping our graduates find jobs in rural communities and growing our international student body at the Law School. Finally, I want to expand our visibility nationwide, making sure that people know the great things we're doing here.
What sets Drake Law School apart from other schools?
I would say the quality of our faculty, first of all. They really know how to teach and they've all practiced law, so our students leave prepared to practice. Our centers are also very distinctive. For example, our Ag Law Program continues to be the best in the country. We have a unique Legislative Practice Program that is doing a tremendous job of preparing students to engage in legislative processes. Our Constitutional Law Center is one of only four in the country and brings impressive speakers to campus. We also have a world-class clinical program that bridges the gap between law school and practice. I could go on and on.
What advice do you have for students coming to Drake Law School?
Be prepared to work hard and begin acting like a professional from day one. We don't want to just teach you the law, we want to turn out quality professionals.
What advice do you have for alumni who want to get involved?
We need alumni support in many ways, from adjunct professors to volunteer coaches for our various competition teams, as well as financial support. We absolutely could not do the things that make us who we are – such as moot court or law review – without the support of our alumni. I also welcome suggestions for how we can improve the Law School.