Collaboration, resilience, and compassion: Those are the traits Drake's top senior, Brytani Cavil, says she developed most during her years as a Bulldog.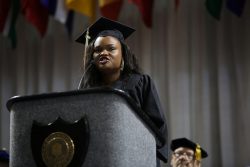 Cavil, a senior marketing major in the College of Business and Public Administration and single mother of two, recently received the Oreon E. Scott award, given annually by Drake to one outstanding senior student. She was the featured speaker at the 140th Undergraduate Commencement Ceremony at 10 a.m. Sunday, May 15, in The Knapp Center.
Cavil's commencement speech balanced her strong sense of humor—and infectious laugh—with reflections on her generation's responsibility to confront weighty social and political issues. In her time at Drake, the St. Louis native became a force for equity and inclusion, serving as the president of the Coalition of Black Students and a member of the core planning team for Drake and The Des Moines Register's #UniteIowa on Race at Drake series.
"When we first entered this University, entered higher education, we didn't know that [a] major shift of social consciousness would be taking place, and that we would have a major part in it," Cavil told her classmates. "We didn't know that our voices would be the voices that people are listening to. We didn't know that we are becoming the movers and shakers of society."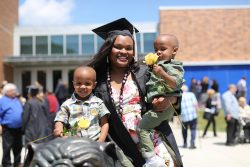 Drake exposed Cavil to a multitude of diverse new perspectives—through coursework, extracurricular activities and community engagement, and a wealth of political activities that took place on campus. Through teamwork, patience, and an open mind, she was able to tackle any challenge that came her way.
"Life is just one big group project," Cavil said. "No time in life will you ever finish something hugely impactful and say that you had no one else to help you."
One notable challenge for Cavil was balancing her academic pursuits against single motherhood. She learned that she was pregnant with twins—Kory Johnson and Kason Johnson, now age two—during finals week of the first semester of her first year at Drake.
"Whether it's someone to buy you coffee in the middle of the night; whether it's someone who I needed to babysit my kids for me while I pull an all-nighter; whether it's someone that I can call on the phone to just vent … you have to collaborate," she said. "And we have learned to do that here at Drake University—to hear voices, to hear perspectives, and to try to find critical and strategic solutions to problems."
Oreon E. Scott Award
The Oreon E. Scott Award is named after a former Drake governing board member who turned his success as a St. Louis real estate businessman into a lifetime of philanthropy for the Disciples of Christ Church, which founded Drake in 1881. Drake has presented the award annually since 1949.Cavil is the CBPA's 15th Oreon E. Scott Award recipient since 1976, college officials said. Her name and image will be engraved on a plaque outside the The Wells Fargo Career and Professional Development Center in Aliber Hall.
Cavil sharpened her skills and broadened her influence in the Drake and Des Moines communities by confronting major political and social issues. Carol Spaulding-Kruse, professor of English and co-organizer of the #UniteIowa on Race at Drake project, first encountered Cavil on the corner of Drake's campus, in front of a large crowd, leading an impassioned protest of the shooting death of a young African-American man in the United States.
"She had prepared a speech, delivered with pathos and conviction, about the need for community action that would prevent such a tragedy from happening again, especially here. At the time, I thought, 'What a remarkable young woman,'" Spaulding-Kruse remembers.
Cavil joined the planning team for #UniteIowa and continues to serve the community through work as AmeriCorps Youth Service Learning Coordinator with the local nonprofit Children and Family Urban Movement. With every step, she has shown herself to be a strong leader through her thoughtfulness and selfless commitment to advancing the principles of equality and inclusiveness, according to Spaulding-Kruse.
"Her perspicacious judgment arises from an ever-present sense of justice, equally applied," Spaulding-Kruse said. "As an African American woman, her interest in issues of race and justice extends beyond those of her own racial identification."
Cavil hopes to pursue a graduate degree after completing her AmeriCorps service in September. In her commencement address, she urged her classmates to go out and make a difference.
"I would charge my fellow graduates to continue to push forward the work that you've done here on campus, in whatever place that is next in your life. If it's in your workforce, if it's in your church, if it's in your community, in your family—push some of those ideals. Don't be afraid to share your opinion, and don't be afraid to have a different opinion. Because it's those different opinions that are going to bring us to solutions."