Winnie Nassimba stepped off the plane at the Des Moines International Airport in February looking for two things: snow, which she was curious to see for the first time, and Emma Sheldon, a first-year pharmacy student at Drake. The 21-year-old traveler was a student from Kampala, Uganda, and Sheldon was a new friend made the previous summer.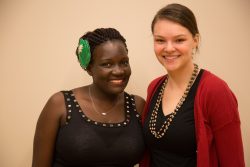 Nassimba's arrival marked what Associate Professor of Finance Jimmy Senteza calls "looping." For 10 years, he and four of his colleagues have traveled with Bulldogs to Uganda for a three-week summer travel seminar. What began as more of a sightseeing excursion evolved into an ongoing educational and cultural exchange with Makerere University Business School (MUBS) in Kampala. Drake students meet Ugandan students, then return to campus to prepare for their new peers' visit to Drake. February's trip was the third time MUBS has completed the loop, with Ugandan students attending campus lectures and workshops on subjects catered to their interests in leadership, business, and public speaking, and MUBS faculty members exchanging teaching methods and administrative ideas with Drake faculty.
The summer travel seminar begins each year with a brainstorm, as students discuss topics they are interested in exploring. Senteza, who grew up in Uganda, and his colleagues organize matching opportunities, such as clean water efforts, teaching opportunities for student educators, and medical development in country.
In 2014 Drake students established and opened a health center in the village of Kikandwa after the group from 2012 had conducted interviews to assess the village's needs. By March 2015, the clinic was operating seven days a week. The following June, students opened a computer lab at City Secondary School, and started a club—Dream On—aimed at empowering young girls. Through an international nonprofit called Days for Girls, students also distributed sanitary kits to young girls and spoke to them about personal health.
That's where Sheldon comes in. When brainstorming with Senteza before the summer 2015 trip to Uganda, he suggested she build on the collaboration established with Days for Girls, an international nonprofit, the previous year.
"It was in <Uganda> in the first school we presented to that I really got passionate about the organization and what they do," says Sheldon.
As part of her project, Sheldon brought 150 feminine sanitary kits to Uganda, each containing reusable pads, panties, soap, and a washcloth. Many girls in the African country cannot afford feminine products and have to stay home from school when they are menstruating. The items in these kits are reusable, are designed to last for years, and eliminate monthly interruptions to the girls' education.
Sheldon visited three schools in Uganda to teach the girls how to use their kits and educate them about puberty and natural health. Although many Uganda students speak English, some words get lost in translation. That's where Nassimba comes in.
Nassimba served as a translator for Sheldon, and was also there to provide local perspective on issues of natural health. While traveling to the schools together, eating meals together, and spending free time together, Sheldon and Nassimba became close friends.
"She and I have really similar personalities, and we spent so much time together that we got to know each other well," says Sheldon.
The two women from different parts of the world discovered they have a lot in common.
"Our favorite show is Gossip Girl, we both study a lot, and we both don't like chocolate—which is strange," says Nassimba.
During the Iowa visit, Nassimba was introduced to ice skating, Sheldon to traditional African dance. Together they attended a kit-making session with the Des Moines chapter of Days for Girls, bringing their relationship with the nonprofit full circle.
Learn more about Drake's partnerships in Uganda:
Deb Bishop, associate professor of practice in management and international business, recently concluded a seven-week sabbatical in Uganda, where she expanded the research and work she's performed during a decade of shorter, annual visits to the country. Read more about how the sabbatical strengthened Drake's partnership with MUBS and enhanced Bishop's work in the classroom.