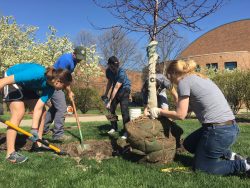 This spring's Ethnobotany class and members of the Drake Environmental Action League (DEAL) joined forces with the University's grounds staff in April to plant a dozen crab apple trees in Wifvat Plaza at the south end of campus. The following week, Herriott Hall residents deepened the campus canopy with a new Yellowwood, now firmly rooted in the east end of the Quad.
Student commitment to campus plant life is growing, says Facility Services' Aaron Harpold.
"We're in the infancy of this cooperation between facilities and students, and it's going in the right direction."
Last year, students helped plant a Hophornbeam in Helmick Commons, and a student-run service-learning event at the Sprout Garden invited children from a local after-school program to add apricot, plum, and apple trees.
Such annual service-learning projects fulfill one of five standards that must be met to achieve Tree Campus USA status. Colleges and universities wearing the badge must also develop policies and guidelines for tree planting, maintenance, and removal; organize a tree advisory committee; allocate finances for dedicated expenditure; and observe Arbor Day each April.
Upon his arrival five years ago, Harpold, a licensed arborist, helped Drake become recognized as a Tree Campus USA through the Arbor Day Foundation. He has been instrumental in maintaining Drake's status in the years since.
"Having Tree Campus status is a mark of our intentionality," says Harpold, who aims to see Bulldogs branch out, not only planting trees but also calculating their benefits (using data from the National Tree Benefit Calculator). "It is a conscious statement as a campus that we value our little piece of the urban forest, and that we want to be stewards of that for ourselves and future Bulldogs and community members."
* Ethnobotany is the study of the relationship between people and plants