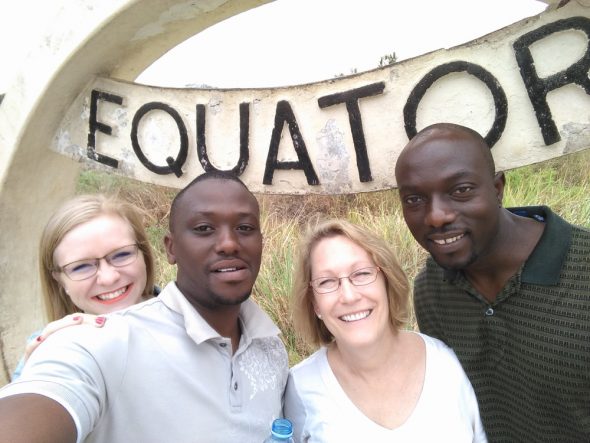 Culture, contrast, malaria, progress, possibilities, obstacles, prosperity. Drake management and international business professor Deb Bishop chose these words, along with a handful of others, to summarize on her blog the experiences and encounters she had while on sabbatical in Uganda. From January to March 2016, Bishop studied entrepreneurship and operations management in Uganda in addition to completing work on a variety of other projects.
"In terms of my professional development, this experience in Uganda has been invaluable," Bishop says. "My time there has allowed me to be a better global citizen and to bring more global perspective, examples, and ideas into my classroom."
Related Article: Friends Without Borders
Drake students develop strong connections with students from Makerere University Business School through a process called "looping." While in Uganda, Drake students meet students at MUBS, then those Ugandan colleagues visit Drake. Learn more about the exchange partnership, which fosters lifelong global friendships, via this link.
For the past 10 years, Bishop has been taking a group of Drake students to Uganda each May for the College of Business and Public Administration (CBPA)'s Sustainable Development in Sub-Saharan Africa course. Bishop's seven-week sabbatical this winter, however, allowed her to complete more extensive research and work in the East African country than the May trips allow.
Designated a visiting professor at the Makerere University Business School, Bishop worked with several professors to complete a variety of projects, including developing new curriculum for their statistics and operations research programs and completing a collaborative paper on Ugandan child mortality that has been accepted for publication. Other projects, such as assisting with dissertations, developing additional curricula, and writing a collaborative paper on transport economics, are still in progress.
Bishop also partnered with 2015 Drake CBPA alumna Carly Riemensnider, who works for Simba Group in Uganda, to complete a feasibility study that examined the possible expansion of Simba Farms Dairies Limited as well as its potential partnership with Ibanda University, a local university.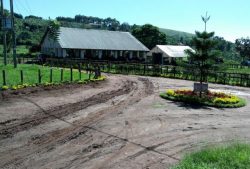 When she wasn't working on those projects, Bishop lent her talents to the Kikandwa Health Centre, a medical facility that Drake students, local elders, and generous donors from the U.S. founded one-and-a-half years ago to treat deadly diseases such as malaria, typhoid, and yellow fever. Drake students are currently raising funds to add a maternity ward to the facility.
"Our relationship with Uganda is very much a team effort," Bishop says. "It began as a dream of Drake professors Jimmy Senteza, Tom Root, and Glenn McKnight. Ten years later, we've had close to 200 Drake students visit and study in Uganda, and the program now has many tangents that are all very interconnected."
Bishop is returning to Uganda this May with another set of students to study both the country's rural and urban areas. While there, she'll also meet with Ugandan colleagues to discuss developments since her departure as well as the next steps for ongoing projects. Ten Ugandan students will join the 14 Drake students for the May class, and those 10 will visit Drake University in February 2017, Bishop says.
"I love being in Uganda," Bishop says. "Improving the development issues there has really become a passion of mine, and it's satisfying to see the projects we've done in the past continue to develop and benefit that region of the world."