The All In 24-hour fundraising campaign saw its highest participation yet with a 2016 total of $102,379.74 from 395 donors—136 of them faculty and staff, and 48 first-time donors.
"While we celebrate record numbers in this campaign, the real success of All In is the collective awareness and advancement of the Bulldog spirit," said Vice President for Alumni and Development John Smith. "I thank all of those who participated in the campaign, whether by making a gift, reaching out to a former roommate, or liking the content on social media."
From May 10-11, the All In Facebook page rolled out third-year campaign challenges that some familiar faces would attempt. Bob Soltis, Chuck Phillips, John Rovers, and Ed Bell from the College of Pharmacy and Health Sciences raced to see who could put on the most white coats. (Watch the video here to see who won.) And in the most watched video, John Pomeroy and John Graham,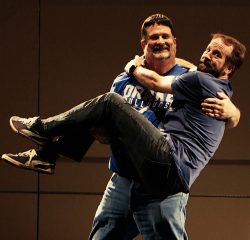 both professors of theatre arts, performed an interpretive dance. You can watch their performance here. Alumni made comments like, "This is the best thing ever," or "This made my day." One alumnus even said, "I have never been more proud to be an alum."
Did you miss the campaign? See what alumni are talking about, and visit the All In Facebook page to watch the videos, including an arbitration between Griff and Spike, and the Bulldog Brass performing "The 'D' Song" using toy instruments.
If you didn't hear about the campaign, maybe it's time to update your contact information: https://alumni.drake.edu/update.
Of course, you don't have to go "All In" for The Drake Fund just one day a year. There is still time to give to Drake this fiscal year: https://alumni.drake.edu/makeagift.