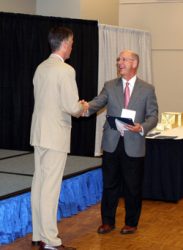 Matthew Doré, the Richard M. and Anita Calkins Distinguished Professor of Law at Drake University Law School, has been named the 2016 recipient of the Madelyn Levitt Distinguished Community Service Award.
Doré was honored at Drake University's faculty and staff service recognition celebration on May 3 in Parent's Hall, Olmsted Center.
The University-wide award is named after Madelyn Levitt, a member of Drake University's Board of Trustees. In 1996, Levitt established the award to recognize outstanding contributions of Drake faculty and staff to the Drake community.
Recipients must have at least five years of service to Drake and are chosen on the following criteria:
Demonstrated personal commitment to volunteerism and community service.
An outstanding record of leadership or substantial involvement in community projects, services, and activities contributing to the quality of life in the region, state, and/or the nation.
Professional/personal values and behavior that typify the ideals of giving back to others and making a difference in the lives of others.
Doré joined the Drake Law faculty in 1992 and was named the Law School's Leland Forrest Outstanding Professor of the Year in 2008. He engages in pro bono work for individuals and non-profit organizations, and he helped establish Drake Law School's Transactional Business/Nonprofits Clinic.
Dore is active in the local community, dedicating his time to a variety of social service ministries through Holy Trinity Catholic Church and the Saint Vincent de Paul Society.
Doré's public service also includes hundreds of hours of community gardening and gardening education outreach as an Iowa Master Gardener. He recently concluded a term as chair of the Polk County Iowa Master Gardeners, which provides gardening-related community service in central Iowa, including growing food for local food pantries.
In addition, Doré has been involved in the local and national legal communities. He served as a member and chair of the Iowa Supreme Court's Commission on Continuing Legal Education and has worked on numerous law reform efforts through the Iowa State Bar Association.
Doré also has an extensive record of Law School and University service, including membership and leadership on numerous Law School and University committees and in the Drake Faculty Senate. He has coached more than 100 Drake Law students in the ABA Client Counseling Competition since 1993, leading Drake teams to the national finals four times – including this year – and winning the national title in 2013.
For more information about Doré, visit his faculty profile.