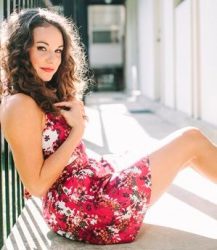 Danika Portz, BN'11, will perform at Gilroy's Kitchen + Pub + Patio at 1238 8th St. in West Des Moines on Wednesday, May 4 at 6 p.m. She is also the speaker at today's Let's DU Lunch event in downtown Des Moines.
Portz graduated from Drake with majors in accounting and marketing, and a minor in musical theatre. She was involved in the Drake Choir, the chamber choir, Drake musical productions, and professional musicals at the Des Moines Playhouse. Upon graduating from Drake University in 2011, Danika moved to Nashville, Tennessee to start her music career. With her hit release, "Greatest Show on Earth," Portz is a rising star in country music.
In her Success After Drake profile, Portz said, "Music has always been my number one goal. Five days after graduation, I packed up and moved to Nashville to pursue a career as a songwriter."
She said she uses her marketing skills to promote herself as an artist, and her accounting skills to create performance budgets.
At today's Let's DU Lunch event at the Des Moines Club, 666 Grand Ave. (34th floor of the Ruan Building), Portz will discuss how she broke into the music industry, life on tour, and what her fans can expect in the future.
Scott Carlson, BN'93, is the primary owner of Gilroy's and spoke about his journey in the restaurant industry at the March "Let's DU Lunch" event. This Drake connection is what led to putting together tonight's live performance from Portz. There is no cover charge for the event. Gilroy's will be providing happy hour specials from 4–6 p.m. before the show begins at 6 p.m.