SJMC faculty participate in presidential inauguration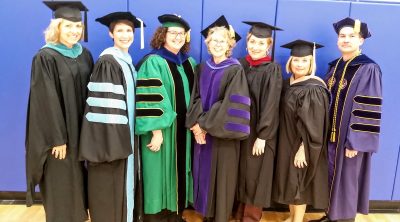 In their academic regalia (from left): Carlyn Crowe, Catherine Staub, Kelly Bruhn, Kathleen Richardson, Grace Provenzano, Dorothy Pisarski and Matthew Thornton.
SJMC faculty were well represented at the installation of "Marty" Martin as president of Drake University last Friday. In addition to faculty and staff who were in the audience, David Wright was a university marshal for the festivities, which featured not only speeches by the new president and other official representatives of Drake constituencies, but also a "flash mob" of singing students.
Scholarship in honor of retired professor Lytle announced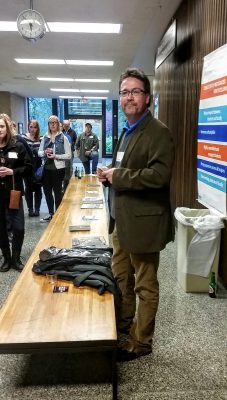 SJMC graduates and current and former faculty members gathered on Saturday evening for the annual alumni reception, held the last evening of Drake Relays in Meredith Hall. This year, 1989 electronic media alum Bob Gillies (above) was on hand to announce the creation of the John Lytle Endowed Scholarship, in honor of the retired Levitt distinguished professor of broadcast news. The first recipient of the scholarship is broadcast news sophomore Leah Thompson. Gillies said he was inspired to create the scholarship because of the values Lytle imparted to his students: excellence, hard work and upstanding character.
SJMC offering online summer classes
The SJMC is offering several online classes this summer:
JMC 99: Social Media Strategies (Info Lit AOI) – May 16 – June 3
JMC 66: Media Responsibility Over Time (Engaged Citizen AOI) – 2 Sections, both held May 16 – June 3
JMC 105: Web Page Design – May 16 – June 3
JMC 123: Public Relations Writing (Written Comm AOI) – May 16 – June 3
JMC 124: Ad Copywriting and Content Design (Written Comm AOI) – May 16 – June 3
JMC 76: Advertising Principles (Critical Thinking AOI) – July 5 – August 2
Documentary by SJMC grad showing at Fleur Cinema
"Dear President Obama: The Clean Energy Revolution Is Now," a documentary written and produced by 1976 SJMC alum Jon Bowermaster, will be shown on Wednesday, May 4, at 7 p.m. at the Fleur Cinema, 4545 Fleur Dr. Tickets are $9 and are available at the door. The film is narrated by actor Mark Ruffalo. It is the 20th documentary for Bowermaster, a longtime adventure and environmental writer for such publications as National Geographic.
SJMC Snapchat campaign attracts attention
Digital media professor Chris Snider and his Snapchat admissions campaign for the SJMC was featured in a Digiday story about how colleges and universities are using social media to recruit prospective students.
DBS Relays coverage highlighted
Drake Broadcasting System's coverage of the Drake Relays was featured on a WOI-TV story last week. The Relays show is the largest, longest-running student production in the country.
Smartphone video accessories
Professor Chris Snider has also written a post detailing the best accessories for shooting videos with your smartphone. Snider teaches multimedia lab classes at Drake, where students create videos with their smartphones.
Check your final exam schedule
Check your final exam schedule here to make sure you know when your exams are and to check for any conflicts.
Seniors, pick up your SJMC coffee mug
Remember your Drake years with a SJMC-branded mug. Get yours from Shari Tenney in the SJMC dean's office, Mer. 118.