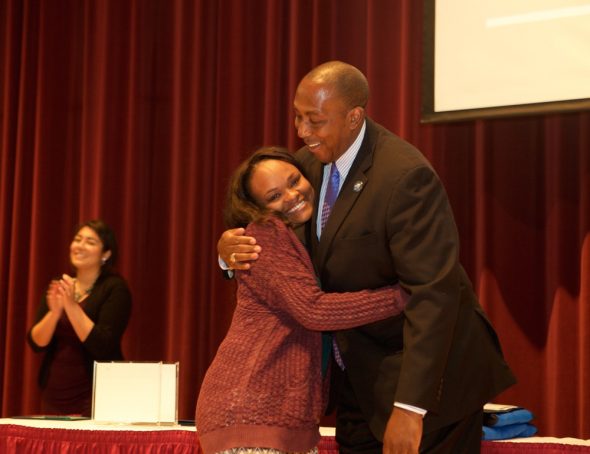 When Brytani Cavil addresses Drake University's graduating class of 2016 as the top graduating senior, she aims to inspire her fellow students—and set an example for her two-year-old twins.
Brytani Cavil, a senior marketing major in the College of Business and Public Administration and single mother of two, recently received the Oreon E. Scott award, given annually by Drake University to one outstanding senior student. She will be a featured speaker at the 140th Undergraduate Commencement Ceremony at 10 a.m. Sunday, May 15, in The Knapp Center, 2525 Forest Ave.
"They're really my motivation, and what's kept me going," Cavil said of her children, Kory and Kyson Johnson. "I'm doing everything so I can be a positive role model for them."
In her time at Drake, Cavil has been a force for equity and inclusion, and an influence on numerous classmates and members of the Drake and Des Moines communities. She served as the president of the Coalition of Black Students, and has also been a member of the core planning team for #UniteIowa on Race at Drake, a series of events addressing racial issues from different angles.
"Receiving this award was very emotional for me, because I worked really hard for the four years I've been at Drake, and I've faced a couple of obstacles along the way," said Cavil. "It just reflects the support I've received on campus."
Carol Spaulding-Kruse, professor of English and co-organizer of the #UniteIowa on Race at Drake project, first became aware of Cavil's leadership abilities when she saw Cavil on the corner of Drake's campus, in front of a large crowd, protesting the shooting death of a young African-American man in the United States.
"She had prepared a speech, delivered with pathos and conviction, about the need for community action that would prevent such a tragedy from happening again, especially here. At the time, I thought: 'What a remarkable young woman,'" Spaulding-Kruse remembers.
Since that time, Cavil has served as a core member of the planning team for #UniteIowa, and has served the community through work as AmeriCorps Youth Service Learning Coordinator with the local nonprofit organization Children and Family Urban Movement. With every step, she has shown herself to be a strong leader through her thoughtfulness and selfless commitment to advancing the principles of equality and inclusiveness, according to Spaulding-Kruse.
"Her perspicacious judgment arises from an ever-present sense of justice, equally applied," Spaulding-Kruse said. "As an African American woman, her interest in issues of race and justice extends beyond those of her own racial identification."
Cavil hopes to pursue a graduate degree after completing her AmeriCorps service in September.
The Oreon E. Scott Award is named after a former Drake governing board member who turned his success as a St. Louis real estate businessman into a lifetime of philanthropy for the Disciples of Christ Church, which founded Drake in 1881. Drake has presented the award annually since 1949.
Cavil is the CBPA's 15th Oreon E. Scott Award recipient since 1976, college officials said. Her name and image will be engraved on a plaque outside the The Wells Fargo Career and Professional Development Center in Aliber Hall.