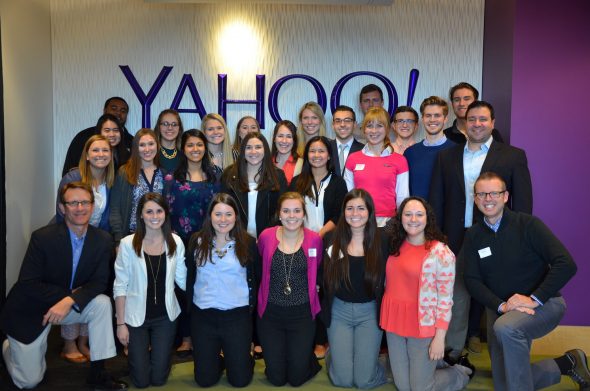 Marketing students from Drake University's College of Business and Public Administration and Creighton's Heider College of Business joined forces recently for the third annual Murphy Cup, a marketing student case competition. Working on to solve a real-world problem for client Yahoo!, students were joined by faculty and administrators from both schools as well as by representatives of Yahoo! who participated throughout the weekend in various capacities.
The Murphy Cup is the vision of Drake University alumnus Chris Murphy, a member of Creighton's Board of Trustees and owner of the Ameriwest Corp holding company and First Westroads bank in Omaha,  to hold an annual marketing strategy competition featuring top marketing major seniors from Creighton and Drake. Murphy made a substantial donation to make this event possible, covering all event expenses and accommodations. Each year, twelve students are chosen by the marketing faculty to represent each school. This year's students from Drake included Jordan Beard, Vickie Chai, Morgan Dezenski, Peter Farley, Ashley Fellows, Morgan Hollenbeck, Emily Johnson, Lisa Lerman, Kevin Maisto, Aaron Melton, Jay Smith, and Mollie Wheeler. The competition was hosted by Creighton and was held in Omaha from March 31 to April 2.
"We've designed this to be a truly unique event and an experience that will stand out as a highlight of these students' college career," said Andrew Norman, associate professor of marketing at Drake and organizer of the event.
One of the key features of the Murphy Cup as a case competition is the organization of competitive teams. Rather than having teams from Drake compete against teams from Creighton, six four-person teams composed of two students each from Creighton and Drake compete against each other. The purpose of this is to foster collaboration between the neighboring schools while at the same time pressing students to compete at the highest levels of their academic fields.
Another key element of the event is the participation of a corporate client.
"It was Chris Murphy's strong desire for the case competition to be based on a 'live' company and real-time information," Norman said. "This year, that led us to pursue Yahoo! as the subject."
Students were given background reading material on Yahoo! prior to the event. During an opening banquet on March 31 where students were assigned to their teams. On April 1, Yahoo! hosted the students in their Omaha offices, where they were presented with a challenge the company currently faces. Each team was then given work space where members spent the rest of the day preparing a strategic plan to address the challenge. The event continued on April 2 at Creighton's Harper Center, where students presented their recommendations to a panel of judges that included Yahoo! management.
The weekend's final event was a formal dinner and award ceremony on the evening of April 2, following the presentations. The top two teams took home trophies as well as a cash prize. On this year's winning team were Drake students Emily Johnson and Aaron Melton, with Ashley Fellow and Jay Smith on the second place team. Also showing their skills and taking home individual honors were Aaron Melton (Best Presenter), Peter Farley (Most Knowledgeable Contributor), and Vickie Chai (Most Creative Contributor). All students received keepsake items commemorating the event.
While the event was designed to be mostly business, the students had plenty of opportunities to network.
"We anticipate that the relationships formed through this year's Murphy Cup will endure well into the future," Norman said.
For more information about this year's Murphy Cup marketing case competition, please contact:
Andrew Norman, associate professor of marketing
College of Business and Public Administration
Drake University
2507 University Ave.
Des Moines, IA 50311
515-271-2758
atnorman@drake.edu