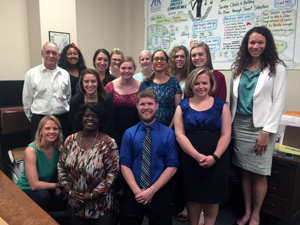 Ten Drake Law School students participated in a volunteer trip to New Orleans during spring break this semester.
The group was led by Erin Lain, assistant dean for academic services at Drake Law School. This marks the seventh year the Law School has organized the trip.
During the trip, Drake Law students put in more than 300 cumulative hours of volunteer work with The Pro Bono Project of New Orleans.
Founded in 1986, The Pro Bono Project helps low-income families and individuals in need gain access to resources and volunteers who can help them resolve civil legal issues.
For four days, students were assigned projects through the organization and assisted in casework related to divorce, trust and estates, child support, and more. Students also worked one-on-one with clients.
"The experience allowed me to apply the skills I learned in class to a professional setting," said Kolby Warren, first-year Drake Law student. "It gave me practical experience before I was even done with my first year of law school."
"For many of the students, this is their first time working with clients or participating in pro bono services," Lain said. "It is a true joy for me to watch the students develop crucial skills that will help them in their future legal practice."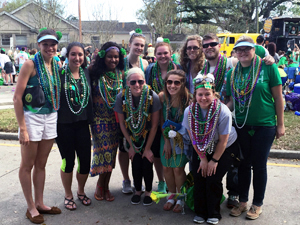 In addition, students were able to experience the culture of New Orleans. The group stayed in a hotel on the edge of the city's downtown and warehouse district, where students had access to the French Market, the New Orleans Saints' Superdome, and famous Bourbon Street.
They also participated in activities such as a city tour, dinner in the French Quarter, a walking swamp tour, and the St. Patrick's Day Parade.
"The New Orleans trip was such an amazing opportunity," said Samantha Nordstrom, first-year Drake Law student. "From the practical legal training we gained at The Pro Bono Project to getting to experience the rich and vibrant culture of the city – it was a week that I'll never forget."
"By volunteering at The Pro Bono Project, my classmates and I had the opportunity to experience real clients and cases," added Kacy Flaherty, first-year Drake Law student. "After having this hands-on experience with other attorneys, I feel even more confident to start my first clerking job this summer."
Drake Law School began the annual volunteer trip in spring 2008. In 2012, Drake Law was recognized with an award from The Pro Bono Project and the Louisiana State Bar Association honoring the Law School's work.
"The New Orleans volunteer trip is a wonderful opportunity for students to put into practice Drake Law's mission of promoting justice, serving as leaders, and responding to the call of public service," Lain said.
See more photos from the trip on Drake Law School's Flickr page.