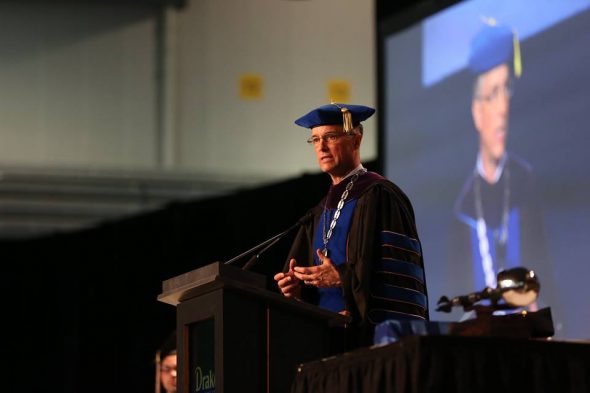 Drake University formally installed its 13th president, Earl F. "Marty" Martin, during an inauguration ceremony on Thursday, April 28.
The tradition-rich event hosted by inauguration marshal, emcee, and co-chair Joseph Schneider began with a formal procession by hundreds of Drake faculty and staff members, who filed onto The Knapp Center floor in academic regalia.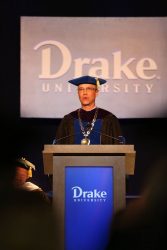 More than 1,000 Bulldogs stood as Shawn Galligan, a senior vocal performance major, was accompanied by the Drake Wind Symphony through the National Anthem, and remained standing as Professor of Religion Jennifer Harvey delivered an invocation. Martin carried a ceremonial mace, medallion, and chain, which leave the confines of the University Archives only during the most formal proceedings.
Although the inauguration was steeped in history, it was not a moment for Drake to rest on ceremony or tradition—but rather, for members of the Drake community to mutually affirm their commitment to one another, to the University's community, and to its mission.
"I believe with all my heart that if we—and I mean all of us who love Drake University—share a commitment to a common purpose, then anything is possible," Martin said. "Without commitment, there are only hopes and aspirations. It's commitment that turns our hopes and aspirations into the realm of action; into the outcomes that shape the world."
Drake alumnus Paul Doucette, chair of the National Alumni Board, addressed Martin on behalf of Drake's more than 70,000 living alumni.
"We the alumni of Drake University stand ready to work with you, to build on the strong foundation of Drake's past, to create a bright and prosperous future for our alma mater," Doucette said.
Iowa Gov. Terry Branstad said, "As a 1974 grad of the Drake Law School, I am pleased to be a part of this ceremony inaugurating the 13th president of Drake University, Earl 'Marty' Martin. Drake University is a place where hard work and big dreams can lead to great success. Drake has graduated many of Iowa's leaders throughout the state's proud history. Drake alumni lead many businesses and nonprofits, and serve with distinction in all three branches of state government. I am very optimistic about the future of Drake University under your leadership. I pledge my support, and that of the State of Iowa, to collaborate with you and your administration as you prepare Drake students to become our future leaders."
Jay Byers, chief executive officer of the Greater Des Moines Partnership, shared that four of the Partnership's past five board chairs are Drake alumni.
"As you've often said, a great university needs a great city, and a great city needs a great university," Byers told Martin. "I am proud to say we have both a great city and a great university. I'm confident that you are the right leader for Drake at the right time, and that you will bring a fresh perspective and an influx of energy to Drake University and to Greater Des Moines. The state and the region have always had a strong relationship with Drake University. I am confident that under your leadership, that relationship will only grow stronger."
Dr. Stephen Freedman, provost of Fordham University and Martin's longtime mentor, called Martin a "man of great vision and intense moral integrity."
During his time at Gonzaga School of Law, Martin improved the law school from a number of perspectives, including academic and financial. He replicated that success as Gonzaga University's academic vice president, then as its executive vice president, inspiring colleagues to achieve greater success and providing creative opportunities for personal and institutional growth, Freedman said.
"I trust this is the sense that you have gained of him in his first 10 months as President: his incredible generosity of spirit, his unwavering civility, his ability to work with people, and to accentuate the positive," Freedman said. "Marty is truly a servant-leader. He believes he serves the people with whom he works. There is an unassuming, humble quality to his leadership that underscores its significant strength."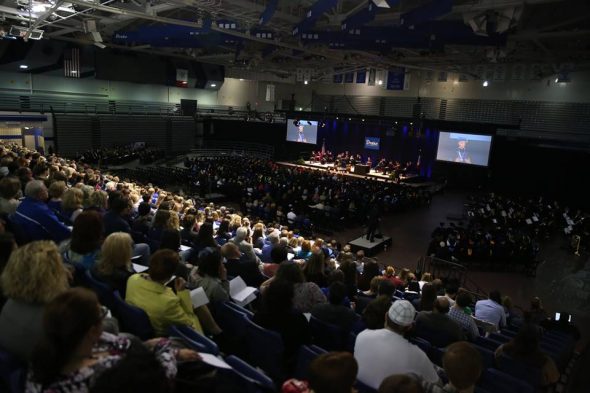 In his own remarks, Martin remembered a transformative moment in his life, when he watched South African social rights activist Desmond Tutu deliver the 2012 commencement address at Gonzaga University. Tutu made a passionate appeal, which resonates with Martin today, for humans to be "more hospitable to gentleness, to sharing, to caring," and to extend love and grace to all people.
"I feel a powerful calling that flows from the dignity of each person we come into contact with, and is shaped by the gravitational force of justice, to work with all of you to improve the face of education and service," Martin said. "This commitment to community is in the DNA of Drake University; is part of our daily, lived experience. We are committed to those communities of which we are a part."
To the students, Martin said: "Thank you for your boundless and invigorating optimism."
To the faculty members: "Your good will and enthusiasm sustain me, day in and day out."
To college and university presidents in attendance, and their designated representatives: "This inauguration celebrates our common cause of improving the world through education."
And to the entire Drake and Des Moines community, he said: "This institution would not be what it is without you. This inauguration celebrates our continuing relationship."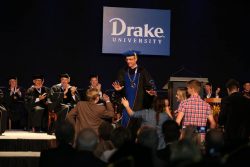 The afternoon concluded on a light-hearted note, with Martin's mother and son Cade emerging from The Knapp Center wings to sing "Mamma Mia"—with custom lyrics, and the titular name swapped for "Marty Martin." A group of Drake students then rushed the floor for a song-and-dance number: "Hey Marty," an original composition to the tune of Toni Basil's "Hey Mickey."
Marty rose to slap high-fives with students before rejoining the formal recessional—a fitting contrast of fun and formal for Drake's 13th president.
A full video recording of the inauguration ceremony is available online.
Past Leadership of Drake University
George T. Carpenter, 1881-1893 (President and Chancellor)
Barton O. Aylesworth, 1893-1897 (Acting Chancellor)
William Bayard Craig, 1897-1902 (Chancellor)
Hill McClellland Bell, 1902-1918 (Vice Chancellor, President)
Arthur Holmes, 1918-1923
Daniel Walter Morehouse, 1923-1941
Henry Harmon, 1941-1964
Paul F. Sharp, 1966-1971
Wilbur C. Miller, 1972-1985
Michael R. Ferrari, 1985-1998
Robert D. Ray, 1998-1999
David E. Maxwell, 1999-2015