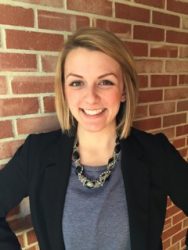 Brenna Paukert was sitting in a cafe in Barcelona, Spain, when her future came into sharper focus.
Paukert, a broadcast news major from Webster City, Iowa, has always dreamed of being a TV news reporter. But there in Barcelona—sitting at a table across from one of her professors—she had to balance that lifelong passion against a newfound interest in leadership education.
The Barcelona trip was part of the curriculum for an academic concentration in Leadership Education and Development, also known as LEAD; the professor across from her was the program's director, Tom Westbrook. They sat for two hours, discussing how the worlds of journalism and leadership development could jell.
"We talked about my life and what I wanted to do, we discussed so many options for jobs and internships," Paukert said.
The outcome of their brainstorming session was a first-ever arrangement between Drake and KCCI, Hearst's CBS affiliate station in Des Moines. Paukert had previously completed a semester-long news internship with KCCI—but this new opportunity took her learning experience to the next level as an intern to Brian Sather, KCCI's president and general manager of KCCI.
It's a comprehensive behind-the-scenes internship that exposes Paukert to myriad facets of the TV station—from the newsroom, to human resources, to accounting, ad sales, and more—through the lens of the leader who oversees it all.
"I've seen all the components of a TV station and how they come together," Paukert said. "That experience will be so valuable as I move forward in my journalism career."
Paukert is one of a handful of students who have participated in this type of second-tier internship, which Drake calls a LEAD Internship. Students who have already interned with an organization take their involvement, and their education, one step further by focusing on high-level implementation of organizational mission, vision, and strategy.
Westbrook says that type of high-level experience prepares students not just to land their first job, but to excel in their careers.
"In the LEAD program, we talk about the difference between being on the dance floor and being on the balcony," Westbrook explains. "Most internships are an opportunity for students to be on the dance floor—but with the LEAD Internship you're on the balcony, where you come to understand the wider implications of leading a company, a not-for-profit, or a division within a huge multinational company."
After the Iowa Caucuses, when KCCI turned its lens from months of political coverage, Paukert led a major initiative to reflect on the station's greatest strengths and areas of opportunity. She surveyed KCCI staff and reported back to senior leadership with a variety of recommendations to enhance the station's coverage next campaign cycle.
"I've seen and learned so much," she said.
As Paukert prepares to graduate in May, after only three years at Drake, she's pursuing multiple job opportunities at TV stations around the country. She had an exceptional opportunity to make additional career connections this month as a production assistant to a broadcast team at the National Association of Broadcasters Show in Las Vegas.
The conference, which was held from April 16-21, attracted more than 100,000 media and entertainment professionals from more than 160 countries. Paukert was one of 10 college students selected to assist with NAB Show's StudioXperience Broadcast Studio, through which key executives from industry leading companies joined tech expert Steve Waskul for in-depth interviews throughout NAB Show.
"I did multiple live intros for interviews throughout the week and was interviewed on the show about my internship experience," Paukert said. "NAB was huge and a lot to take in with all the advanced technology and innovative creations. I had fun!"
Todd Evans, professor of journalism, recommended that Paukert apply for the highly selective assistantship. When he learned that Paukert was selected he jumped up and down, gave Paukert a hug, and ran down the hall to inform the other professors—because he knew the opportunity would be a valuable trial by fire.
"This is an incredible experience for a student to produce content in the middle of more than 100,000 people," Evans said. "It's loud, it's fast, and it can rattle even the most seasoned television crews. Brenna had the overall people and technical skills to nail it."
In all, Paukert has had three internships during her three years at Drake— including her current KCCI internship and news internships at KCCI and the Des Moines area's ABC affiliate, WOI-TV.
She's also serving this spring as a producer for Drake Broadcasting System's student-produced coverage of the Drake Relays. She manages a team of six line producers, who in turn oversee a total of about 30 students. Together they will film and edit 24 pre-taped video packages to complement the live Relays broadcast.
"I chose to study at Drake because of the internship opportunities and learning opportunities that are available here," she said. "And it's definitely been worth it."