Three years ago, Matt Bourland never imagined he would be the winner of multiple piano competitions. But that's exactly what happened: after winning several local competitions, Bourland, a homeschooler and part-time Hoover High School student, most recently won Iowa's elite Terrace Hill Piano Competition, earning himself a $10,000 scholarship to any Iowa school.
Leanna Bell Pullen Scholarship
Through a partnership with the Des Moines Community Foundation, DUCSOM provides five students enrolled in the Des Moines area high school with a year of music instruction. This year's Leanna Bell Pullen Scholarship Recital will take place at 7 p.m. Wednesday, May 18 in the Turner Jazz Center, 2505 Carpenter Ave.
Bourland's road to success took a few twists and turns. A pianist for most of his life, he had taken a break from piano instruction until deciding to enroll in private lessons with Jessica Anderson, an instructor for Drake University's Community School of Music (DUCSOM) three years ago.
"I knew immediately he was very, very talented," said Anderson, describing their first meeting. "But I also knew we had some work to do with technique and fundamentals."
After a year of working with Anderson, Bourland won his first district Iowa Music Teachers Association (IMTA) competition. Another win followed the next year. That's when Bourland and Anderson set their sights on the Terrace Hill Piano Competition, a prestigious statewide competition sponsored by the Terrace Hill Endowment for Musical Arts (THEMA).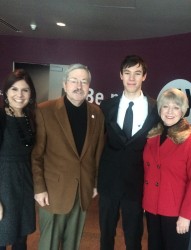 For months, Bourland and Anderson finetuned his program, nearly 20 minutes long, which consisted of works by Rachmaninoff, Clementi, and Ginastera.
About a month prior to the competition, Bourland submitted an audition recording of his program. After reviewing submissions from all over Iowa, Bourland was among six students chosen to compete at the IPTV studio in Johnston, before being declared the winner. A recording of the competition aired Monday, April 4, on Iowa Public Television.
"I always believed he was capable. It just took me awhile to really see it come to fruition," said Anderson.
In addition to Bourland's success, Anderson got to celebrate the success of another high school student, Crystal Kimama, who was named State IMTA winner of her age category at Iowa State University in March. She will perform at a state honors recital in June.
Bourland and Kimama are all students of DUCSOM, which has been nurturing the musical talents of students for over 50 years. The organization serves students of all ages, from children of five or six to senior citizens.
"We're promoting a thriving arts community," said Anderson. "We're promoting excellence in art, so we exist to help people become better musicians, and to make them skilled at their craft. My goal is to bring out the best in my students and help them become the best pianists they can be."