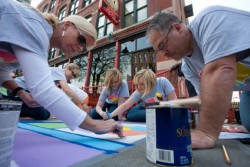 RAIN DELAY: Due to inclement weather, Downtown Street Painting has been rescheduled to Wednesday, May 4, from 1 p.m. to 4 p.m.
A beloved Drake University tradition will hit Des Moines' Court Avenue for the seventh year in a row in celebration of Drake Relays. Downtown Street Painting is scheduled from 1:30 to 4:30 p.m. Wednesday, April 27, between 3rd and 4th streets on Court Ave.
Downtown Street Painting was created to provide exposure for Des Moines businesses, nonprofits, and community organizations, and show support for Drake Relays. Each participating organization paints a four-foot by four-foot square of sidewalk along Court Ave.
The event was inspired by one of Drake's most longstanding campus traditions, during which students paint Carpenter Avenue—and also each other. Downtown Street Painting is not nearly as messy, but it's every bit as spirited. Squares along Court Ave. will incorporate this year's Relays theme, "Commitment. It Starts Here," along with each organization's own identity. The painted sidewalk remains on display throughout the year and will be viewed by the thousands of individuals who enjoy the Downtown Farmers' market, as well as the many restaurants, businesses and other activities that happen on Court Ave.
Registration for the event starts at 12:30 p.m. Judges choose the best designs and will be giving away awards at a ceremony, which starts at 4:30 p.m. The day will conclude with a Court Avenue Happy Hour celebration at 5 p.m. at Johnny's Hall of Fame Sports Bar. Members of the public are welcome to tour the event during the festivities.
This event is sponsored by Drake University, Sherwin Williams, Court District, Greater Des Moines Habitat for Humanity, and Glazed Expressions.