Drake Relays is the time of year when alumni come back to campus and connect with fellow Bulldogs. If you're not able to make the trip home this year, there are other ways to connect with the University and participate in the 107th annual event.
Live Stream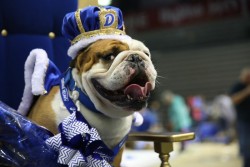 The Beautiful Bulldog Contest and the inauguration of Drake University's 13th president will both be live-streamed for all to watch free. Tune in here on Sunday, April 24, for the Beautiful Bulldog Contest at 1 p.m. Bookmark this link to watch the inauguration of Earl F. "Marty" Martin on Thursday, April 28, at 1:30 p.m.
Twitter
The @DrakeUniversity Twitter handle will be live tweeting the Beautiful Bulldog contest, sharing close up, high-resolution photos of slobbering Bulldogs wagging their tails for the crown.
The @DrakeRelays Twitter handle is the place to get fast race results, including a high-resolution photo of the event's winner. Track and field events start with the distance carnival on Thursday, April 28, but don't miss the pole vault in Capital Square on Wednesday, April 27!

Snapchat
Get a behind-the-scenes look at all Drake Relays week events through the Drake University Snapchat Story. Username is: drakeuniversity.
Tune in
Listen to the 2016 Drake Relays broadcast on radio channels The College Channel and 94.1 The Dog if you're local on Friday, April 29, 10 a.m. to 2:30 p.m. and Saturday, April 30, 9 a.m. to 1 p.m.
Watch the entire Drake Relays on USATF.tv
Watch on NBC Sports Network, Saturday, April 30, 2 p.m. to 4 p.m.