Interested in 360-degree video and virtual reality?
Professor Chris Snider is hosting a workshop Saturday, March 5, where you'll have a chance to get hands-on with some new digital media tools.
Specifically, you will have the chance to…
• Shoot, edit and post 360-degree video using our 360 camera
• Test out our Oculus Rift virtual reality gear
• Try out an iPad pro for editing video and creating illustrations
• Fly a drone
• Gets hands-on with Google Cardboard and the View-master VR kit (a cheap way for you to dive into VR)
• Test a gimbal for silky smooth video from your smartphone
• Try out all of my smartphone video gear
The workshop is 9 a.m.-3:30 p.m. in Meredith Hall room 104. You don't have to stay for the whole workshop.
To sign up, contact Shari Tenney in the Drake School of Journalism and Mass Communication office at shari.tenney@drake.edu or 515-271-3194. Email chris.snider@drake.edu if you have any questions.
Learn more about January Term
The annual J Term Fair will held Monday, March 7, from 4:15 to 6:16 p.m. in Parents Hall. There will be information about both on-campus and off-campus classes, housing, finances and registration.
Newsletter includes story about Station 1 record label project
The University electronic alumni newsletter, eBlue, this month included a story about this year's J Term class on the music industry. SJMC internship coordinator Carlyn Crowe partnered with music and entrepreneurship faculty, and Sony Records' professional Tobi Parks, to promote local bands being developed by the Des Moines Social Club's Station 1 Records, a nonprofit record label. Station 1 is also PRSSA's community client this semester.
Quick, fill out a scholarship application! They're due tomorrow
Stop by the table outside the SJMC dean's office (Mer. 118) to pick up applications for the Meredith Corporation Scholarships for magazine media students; the Frank Miller Scholarship for students who exhibit achievement in web-based graphic design, and the Professor Richard Tapscott Reporting Award. The Tapscott Award is named after a late SJMC reporting professor and recognizes student journalism work, done either in class or on the job, that reflects the values Rick tried to instill in his students: curiosity, accuracy, integrity, humanity, public accountability and aggressive reporting. All of these scholarship awards are in addition to any financial aid the student is already receiving.
Put it on your calendar: SJMC student recognition event
The annual SJMC student awards and recognition reception is Sunday, April 10, 4-6 p.m. in Levitt Hall of Old Main.
Urban Plains celebrates another award,
ramps up for 2016
Urban Plains snared another award when it was named Best of Show in the BEA Festival of Media Arts interactive multimedia competition. It was yet another recognition for the 2015 staff of Urban Plains, led by Kayli Kunkel. The publication earlier won multimedia story of the year in the Associated Collegiate Press contest, best online magazine in the AEJMC contest, a bronze Telly, and eight Iowa College Media Association awards (including best online edition).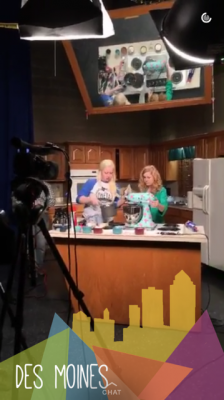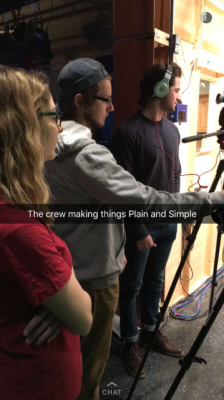 Urban Plains is produced in a senior capstone of broadcast news, radio-tv producing, magazine and news-Internet majors. Last spring was the first time all four majors were combined in one capstone.
The 2016 staff of 40 students, led by General Manager Hannah Bruneman, a magazine major, is off to a strong start. The depth of talent on the staff promises another year of first-rate multi-platform storytelling. On Sunday, a crew used Snapchat to chronicle the taping of a cooking show. You can follow @UrbanPlains on Snapchat, Instagram and Twitter, and like them on Facebook.
PR capstone aims to help City of Manning
Senior Public Relations majors are hard at work on their capstone project for this year. The four teams are working to create comprehensive, strategic, smart public relations plans for the City of Manning, Iowa. They're applying what they learned in their original research last semester to the development of these plans, with the client pitches coming up at the end of March. Teams are in "crunch time," developing every tactic they recommend so the client has all it will need to implement the plans. That means late nights huddled around computer screens designing collateral pieces, careful editing of final books, and overall intense focus to present what are sure to be outstanding professional campaigns next month.
Ad capstone working with DuPont Pioneer
The advertising seniors are collaborating with local agribusiness giant DuPont Pioneer to create a campaign for their senior capstone.
An alumna's Instagram account
that we can't get enough of
Bailey Berg, a '14 news-Internet and magazine grad, is a reporter for the Alaska Dispatch News in Anchorage. Her Instagram account (@baileyrberg) captures the beauty of Alaskan life: glaciers, skiing, sled dogs, fishing, sweeping vistas and fascinating people.