$15-million facility is Drake's first new academic building in 20 years and a key component of the University's STEM@DRAKE initiative.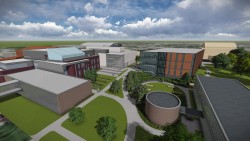 Drake University held a groundbreaking ceremony Saturday, Feb. 27, for the University's first new academic building in 20 years. Collier-Scripps Hall is a $15 million, 50,000 square-foot facility that will house the University's School of Education, the Department of Mathematics and Computer Science, and The Robert D. and Billie Ray Center.
The building is one of two currently under construction as part of the $52 million STEM@DRAKE initiative, which also includes renovation of four existing facilities and the creation of six new academic programs. STEM@DRAKE will provide students interdisciplinary learning environments that better prepare the next generation of science teachers and help meet a national shortage of trained professionals in STEM fields.
"Today is a monumental day in the history of Drake University," said President Marty Martin. "Collier-Scripps Hall represents a bold step forward for the University in its commitment to prepare students for local and national workforce needs, and to build on Drake's core focus of integrating liberal education with practical preparation."
Collier-Scripps Hall is named after three Drake alumni who have provided generous support for the University and for STEM@DRAKE.
Jim Collier earned his Master of Arts in Education in 1970. He is a retired high school English teacher from Medford, Ore., and an active and passionate philanthropist. He established, with his brother John, multiple scholarship funds and a professorship in the Drake University School of Education in memory of his mother, Drake alumna Mary Collier Baker. In his own name he has endowed a faculty development fund and a scholarship for elementary or secondary education students who demonstrate financial need. He is also a regular contributor to Drake's Annual Fund, Friends of Drake Arts, and the Drake Alumnae Scholarship Fund. His other gifts include a $60,000 Steinway Model D piano for the music department and a $100,000 contribution for the Collier Heritage Room in Cowles Library, which displays items from Drake's 135-year history.
Ric Scripps and Debbie Engstrom Scripps are retired teachers who received their Bachelor of Arts in Teaching degrees in 1970 and 1972, respectively. Ric Scripps began his career as a teacher in Minnesota in the 1970s before moving on to work for Darr Equipment, where he rose to the rank of vice president of administration. Debbie Scripps spent her career as a first-grade teacher, a reading specialist, and a middle school math and science teacher. She joined Drake's Board of Trustees in 2004. In addition to their support of the new Collier-Scripps building, the Scripps family provided philanthropic leadership to Helmick Commons and the new Shivers Basketball Practice Facility.
Other generous supporters of the project include Drake alumna Joan Middleton, whose other contributions to Drake include the Joan and Lyle Middleton Center for Children's Rights; and Hy-Vee, Inc., which targeted its gift toward the development of The Robert D. and Billie Ray Center.
"The generosity of Jim Collier, Ric and Debbie Scripps, and many other loyal supporters will be recognized at Drake University for generations to come," Martin said. "They understand that the pace of change and the growing complexity of our world requires bold, innovative, agile thinkers—and they have embraced our vision to address this global need."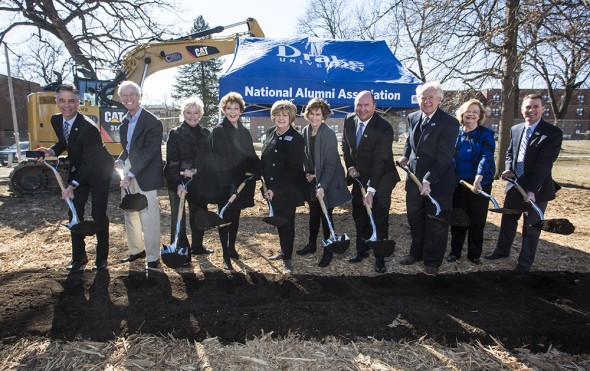 The building is also a homecoming of sorts for Drake University's School of Education, which has been housed in a building on the western edge of campus since 1990. The new home in Collier-Scripps Hall brings the School of Education to the heart of campus, allowing new generations of undergraduate and graduate students to collaborate with partners on campus, with closer access to modern technology used to prepare students for outstanding professional accomplishments. Faculty members are eager to demonstrate best practices in a facility tailored for collaborative learning, said Jan McMahill, dean of the School of Education.
"Momentum is building, anticipation is growing," McMahill said. "The School of Education continues to lead the way in the preparation and continuing education of classroom teachers, school administrators, counselors, and other organizational leaders."
The Robert D. and Billie Ray Center is dedicated to improving civility and developing ethical leaders throughout the world. Through its name and activities, The Ray Center honors the legacy of former Drake University President and Iowa Gov. Robert D. Ray and his wife Billie, both of whom are Drake alumni.
"Billie and I believe it is a tremendous honor for Drake University and Iowa to capture the opportunity to be the center of civility, leadership and ethics," Robert Ray said. "The foundation has been set to fulfill a vision greater than any of us individually—a vision to bring together some of our nation's finest leaders and organizations to positively impact the world for decades to come. Drake and Iowa should be the place that people from across the globe look to for character-based solutions for our most pressing challenges."
Built on the cornerstone of Character Counts In Iowa, an organization founded in 1997 by former Gov. Robert D. Ray as part of Iowa's susquicententennial celebration, The Ray Center will focus on leadership and character development initiatives such as the CHARACTER COUNTS! program to help create strong, vibrant communities that value positive, healthy relationships and respectful behavior.
"Governor and Mrs. Ray have a rich history of doing the right thing for the right reason to shape the future for generations to come. The Ray Center will honor their legacy of leadership as we build upon the wide range of services we offer from early childhood through the corporate sector," said Scott Raecker, director of The Robert D. and Billie Ray Center. "Our close relationship with Drake's School of Education will allow us to enhance our pre-K through higher education initiatives and open an unprecedented range of new opportunities."
"Every one of us is here because a teacher brought us here. A teacher lit a fire under us that ignited a passion in us. We're excited that Drake will do this for students for generations to come. To be a part of it means the world to us, and we can't thank you enough."
     — Debbie Scripps
STEM@DRAKE Quick Facts
Initiative Cost:  $55 Million
Philanthropy Goal: $30 million
Gifts To-Date: $15 million
Debt Financing: $25 million
Details, Timeline, and Costs of Phases 1, 2, and 3
Phase 1 [Complete]: Renovation of Harvey Ingham Hall: $4.4 million.
Phase 2 [Ongoing]: Construction of two new buildings: $47.6 million. Construction is set to begin February 2016 and conclude summer 2017. A new building would serve as the home for the School of Education as well as the Department of Mathematics and Computer Science. That building would connect to Olin Hall through a second-story walkway. A second new building with laboratory and classroom space would connect Olin Hall and Fitch Hall.
Phase 3 [Future]: Renovation of Olin Hall. Projected cost: $13 Million. This portion of the project is subject to further Board of Trustees approval. Timeline and other project details are subject to financial conditions, enrollment, and other conditions upon completion of Phases 1 and 2. A funding plan for phase 3 has not yet been developed.
Collier-Scripps Hall
Construction Cost (maximum): $15 million
Square footage:  Nearly 50,000 square-foot
Design features:
Houses the Department of Mathematics and Computer Science, the School of Education, and The Robert D. and Billie Ray Center;
Offers flexible classrooms that can be configured to enhance teaching styles and learning needs;
Enables new program offerings; and,
Leverages Drake's 2012 legislative designation as a regional hub assisting more than 200 K-12 schools with science, technology, and math curriculum and career development.
Leadership-Level Donors:
Hy-Vee, Inc. (to the Robert D. and Billie Ray Center)
Jim Collier
Joan Middleton, to STEM@DRAKE
Ric Scripps and Debbie Engstrom Scripps
 Science Connector
Construction Cost (maximum): $21 million
Square footage:  55,000 square-foot
Design features: 
Four-level facility will connect Fitch Hall and Olin Hall.
Will include clustered learning environments for neuroscience, molecular biology, human performance, and environmental sciences (greenhouse).
Will earn two globes in the Green Buildings Initiative's environmental rating system. The Green Globes organization says a two globes rating "demonstrates excellent progress in achieving reduction of environmental impacts and use of environmental efficiency practices."

Looking Back: Some other major capital projects of the past 25 years
2013—Morgan E. Cline Atrium for Pharmacy and Science. Drake alumnus Morgan E. Cline gave $3 million to create this new two-story facility that connects Harvey Ingham Hall and Cline Hall of Pharmacy and Health Science. The atrium includes a student learning commons, faculty offices, and an experiential learning suite.
2010—Patty and Fred Turner Jazz Center. This $1.5 million performance venue and studio recording space provides a home for jazz studies at Drake University. The project was funded by the late Drake alumnus Fred Turner, a retired senior chairman of McDonald's Corp., and his late wife Patty, an alumna of Drake's music program.
2010—Hubbell North. This $5 million renovation transformed vacant, outdated rooms on the north side of Hubbell Dining Hall into a contemporary student hangout with myriad opportunities for dining, socializing, and recreation.
2008—Residence Hall Renovations. Drake spruced up its first-year housing with a $20 million renovation of four residence halls. Each hall includes air-conditioning, double-glazed windows for improved insulation and sound resistance, expanded bathrooms and laundry rooms, upgraded student rooms and social spaces, and other amenities.
2003—Helmick Commons. This beautiful green space in the heart of Drake's campus features a reflecting pool, agora, and decorative landscaping. Robert H. Helmick, an alumnus of Drake University and Drake Law School, grew up on Drake's campus; his father was chair of Drake's physics department and his mother taught mathematics. Through his generosity, thousands of members of the Drake community have enjoyed a space to gather, relax, and play an occasional game of Frisbee.
1993—Opperman Hall and Law Library. The 55,000 square-foot law library has the capacity to hold 250,000 volumes. The space is named for the late Drake alumnus Dwight D. Opperman, who contributed more than $50 million to Drake Law School in support of the building, a lecture series, and other philanthropic uses. Opperman is the largest donor in Drake's history.
1992—The William C. Knapp Center for recreation, sports, and convocations opened along with the Roger Knapp Tennis Center. William Knapp alone donated $3.1 million to the construction of the two athletic facilities; his gift was the largest by any non-alumnus in Drake University history.
Additional information on Drake's major buildings, and the names behind them, is available online at https://wwww.drake.edu/magazine/?p=7220.