Adjunct instructor Tobi Parks placed a call. She hung up the phone after securing a date on the calendar—January 23—for Iowa-based rock trio Dylan Sires and Neighbors to perform at the Drake neighborhood's live-music hotspot Lefty's.
The rest, she told Drake J-Term students, was up to them. They had three weeks.
What happened between the January 4 launch of the University's new J-Term class—A Peek Behind the Curtain: The Recorded Music Industry—and the Saturday night opening set in front of an audience of 150 was an orchestrated, rapid-paced series of negotiations, logistics, and marketing.
"It feels like we're in a reality show," remarked Parks, director of copyright for Sony Music, during the stride of the second week.
With her guidance and the shared expertise of Drake colleagues in journalism, music, and entrepreneurship, 19 students employed a divide-and-conquer strategy. While one group focused on the venue (scheduling opening acts, developing stage plots for sound and lights, organizing hospitality for the bands), a second pursued brand partnerships with area businesses, and a third negotiated fees and handled contractual obligations.
Madison McConnell, a junior public relations major from Duluth and member of a fourth group concentrating on promotion, was up early the final day of J-Term and the day before the concert to make a plug on Des Moines' live, local morning show Great Day.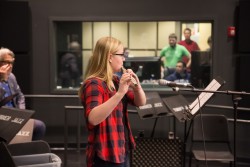 "I came to Drake torn between PR and broadcast news, wanting to be on TV, wanting to be the center of attention," says McConnell, chuckling about the moment. "I found my passion within the entertainment industry even without that spotlight."
McConnell and her J-Term PR team applied a SWOT analysis—examining strengths, weaknesses, opportunities, and threats—to the three bands scheduled to play at Lefty's, bolstering and balancing the social media reach of each. While she hopes to eventually take her insight and experience to a large city (she admires what New York-based Astralwerks Records has done to meld brand and creative freedom), she'll continue contributing her efforts to the new local label that signed Dylan Sires and Neighbors and two other Iowa bands. The nonprofit Station 1, a collaboration between Drake and the Des Moines Social Club initiated in 2015, is steered by Parks and fueled with volunteer enthusiasm. Four Drake students have been with the label since inception, and half of the recent J-Term class is joining them. The Des Moines chapter of the Public Relations Student Society of America (PRSSA), at member McConnell's suggestion, has taken on Station 1 as a community partner during Drake's spring semester. The group will help promote album releases and tours scheduled for this summer.
"On the first day of class, I told them the label was geared toward people their age. They know themselves; they know how to target themselves," explains Parks, who says Station 1 offers a holistic music business experience where students execute the plans they craft. "I want students to walk away from Drake, from Station 1, with a portfolio of work."
McConnell says she'll walk away with even more.
"The experience was so confidence building. I've done it! It may have been on a small scale, but I've done it, and it's definitely something I can do again."