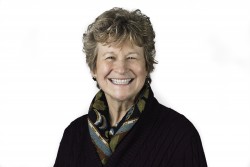 Drake University alumna Julie Stackhouse will receive the 2016 Deltasig Career Achievement Award from Delta Sigma Pi, the professional fraternity announced this month.
The award is presented annually to the Delta Sigma Pi member who has most distinguished himself or herself in business, government, or education and, through his or her accomplishments, has furthered a higher standard of commercial ethics, culture, and the civic and commercial welfare of the community.
Stackhouse will receive the award at an event later this year and will be featured in the March issue of "The DELTASIG" magazine.
Stackhouse is executive vice president and managing officer of the banking supervision, credit risk management, community development, and learning innovation division at St. Louis' Federal Reserve Bank, where she began working in 2002.
Stackhouse graduated from Drake in 1980 with a degree in finance from the College of Business and Public Administration. Following graduation, Julie landed a position with the Federal Reserve Bank of Kansas City as an assistant bank examiner. In 1986, she was named an officer of the bank, and was promoted to senior vice president in 1993. She was the first woman to reach both of these levels within that organization.
Stackhouse also served on the advisory board that developed the Washington University Women's Leadership Certificate Program. She was also the chapter president of the National Charity League, Inc., a mother-daughter philanthropic organization. Stackhouse is currently finishing her sixth year on the national board as the organization's treasurer.
Delta Sigma Pi is a professional fraternity organized to foster the study of business in universities. It was founded in 1907 at New York University, and currently has over 300 collegiate and alumni chapters with over 226,000 members around the world.