His license plate reads "BuelDog," but you'd know this super fan by his actions alone. He attends almost every basketball, football, softball, and volleyball game—and even some practices. He wakes up early to watch the rowing team compete, and he's never missed the Drake Relays.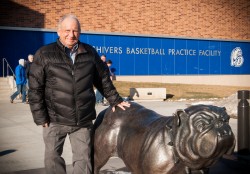 When Ron Buel, BN'62, moved back to Des Moines in 1988, he left the movers at his new home and drove straight to his alma mater to let them know he wanted to get involved.
"I told myself and my friends that someday I was going to make an impact at Drake," Buel said. He met with then-Athletic Director Curt Blake and gave his first of many financial contributions to the University and its athletics programs.
Since then, Buel has dedicated his time and money to Drake athletics and academic programs—or what he refers to as "both sides of Forest Avenue."
Buel transferred to Drake in 1959 when he was visiting a friend on a track scholarship at Drake. He remembers sitting at the corner of University and 25th Street when he realized this was the place for him.
"I was looking at Old Main and saw the right size of campus and the distinction of that building and knew immediately I wanted to be here," Buel said. Since he was a transfer student, Buel was placed in the newly-constructed Herriot dormitory, making him the first student to ever reside in there.
After graduating in 1962, Buel spent 36 years employed by Standard Oil, moving around the country before retiring in Des Moines. Since his return, he has served, in no particular order, on the Board of Governors, a student life committee, the Institutional Advancement Committee, the Drake Relays Executive Committee, the Intercollegiate Athletic Council, the Planning and Priority Council, the Knapp Center Advisory Board, and the National Alumni Board. He's a Charter Member of the Chancellor's Elm Society, and he was the 1997 recipient of the Golden Bulldog award.
His major financial contributions have brought to fruition the men's and women's basketball office suites, sports information and volleyball offices, the women's volleyball locker room, and Ron Buel Field for softball.  He made a major contribution to the Shivers Basketball Practice Facility (the bronze Bulldog outside the facility has his name on it), and the current marching band uniforms and Bulldog Brass uniforms were also supported by Buel.
"Ron Buel is a one-of-kind Bulldog," said Athletic Director Sandy Hatfield-Clubb. "His unconditional love for and investment in Drake University Athletics is unmatched. Ron loves to do the things that make a big difference in the lives of our student-athletes and coaches. Locker rooms are brighter, facilities are more competitive, offices are more inviting, and people are happier because Ron is a committed member of the Bulldog Family. He is teaching all of us how to live the Bulldog way."
Buel says the primary reason for his personal gifting is to encourage dedication to the pursuit of excellence by the student athletes at Drake University.
He wants to see the benefit of his contributions while he is living, and watch the students use facilities and embrace the opportunities given them. For example, Buel followed Dani Tyler's success at Drake and watched the softball star earn a spot on the U.S. National softball team and win a gold medal in the 1996 Olympics in Atlanta.
"My joy is watching the student athletes come in as freshmen and see them grow and leave as seniors well on their way," Buel said.
Head Volleyball coach Darrin McBroom says, "There are no words that can adequately express what Ron's support has meant to this program and to the young women who have been a part of our program. He has truly touched the lives of so many in the Bulldog community."