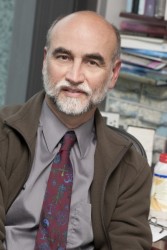 The Comparison Project at Drake University continues its two-year series on Death and Dying by exploring traditions surrounding death in Jainism.
Christopher Chapple, the Navin and Pratima Doshi Professor of Indic and Comparative Theology at Loyola Marymount University, will deliver "Eternal Life, Death, and Dying in Jainism" at 7 p.m. Thursday, March 3, in Sussman Theater, 2875 University Ave. The free lecture is open to the public and is one of many such events presented by the Comparison Project throughout each academic year.
Chapple will draw on his extensive experience as a scholar of the religions of India to explain the Jain tradition of Sallenkhana (or Santhara). The practice involves a process through which one willingly foregoes food and hydration toward the end of one's life in order to pass peacefully into a new life. He will give details about the process and the history of Sellenkhana. He will also explore the correlations of this practice with the hospice and "right to die" movements in contemporary America.
Chapple has published twenty books on aspects of Yoga, Hinduism, Buddhism, and Jainism, as well as religion and ecology. He serves on the advisory boards of the Ahimsa Center, the Forum on Religion and Ecology, and the International School for Jain Studies.
The Comparison Project is an experimental effort in religiously diverse philosophy of religion. It is generously supported by the Drake University Center for the Humanities, Humanities Iowa, the Medbury Fund, the Drake University Principal Financial Group Center for Global Citizenship, the Des Moines Area Religious Council, Cultivating Compassion: The Dr. Richard Deming Foundation, and The Comparison Project's special series sponsor for its programming on death and dying, Iles Funeral Homes.
More information about The Comparison Project, and a schedule of upcoming events, is available online.