Drake University has made its debut on the Peace Corps' annual Top Volunteer-Producing Colleges and Universities list, ranking No. 23 among small universities, the agency announced this week. Currently, there are eight Drake alumni serving overseas as Peace Corps volunteers.
This is the first year that the university has made Peace Corps' Top Colleges list, which categorizes small universities as those with fewer than 5,000 undergraduate students. Since the agency was created in 1961, 269 Drake alums have served overseas.
"The Peace Corps is a unique opportunity for college graduates to put their education into practice and become agents of change in communities around the world," Peace Corps Director Carrie Hessler-Radelet said. "Today's graduates understand the importance of intercultural understanding and are raising their hands in record numbers to take on the challenge of international service."
One Drake graduate currently making a difference abroad is Claire Williamson, who has been serving in Ecuador as a youth and families volunteer since 2014. A native of Dyersville, Iowa, Williamson helps run a local orphanage with more than 75 children, ranging in ages from newborns to 18 years. Additionally, she works with the Peace Corps office in Ecuador to create trainings for new staff members, host families and trainees.
Upon college graduation, Williamson narrowed down her choices with the help of one of her professors and decided to pursue her master's degree at the University of Michigan. She is currently enrolled in the Master's International program, which allows students to volunteer abroad while simultaneously earning credit towards their graduate degree.
"Drake University helped build the ground work for me to make my way into the Peace Corps," the 2012 Drake graduate said. "I loved my classes, the activities I was involved in and the many opportunities to grow academically, professionally and personally."
One other Iowa school also received recognition. Grinnell College is tied No. 23 with Drake on the small schools list with eight graduates serving worldwide.
Nationally, the University of Washington in Seattle pulled in the highest number of volunteers with 72 graduates currently serving in the Peace Corps. You can view the entire top 25 rankings for each school size category here.
This year's rankings follow a 40-year high in applications for the Peace Corps in 2015.  This record-breaking number comes a full year after the agency implemented historic reforms allowing applicants to choose the countries and assignments they'd like to be considered for.
Iowa-based Peace Corps recruiter Ryan Cairns, a returned volunteer who served in Bulgaria, advises Drake candidates and can be reached at rcairns@peacecorps.gov. Visit www.peacecorps.gov/events to learn of in-person and online opportunities to chat with a recruiter.
Currently, 68 Iowa residents are serving in the Peace Corps. More than 2,346 Iowa residents have served as volunteers since the agency was created in 1961.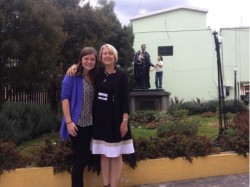 Volunteer Profile: Claire Williamson, AS'12
Hometown: Dyersville, Iowa
Serving in Ecuador as a youth and families volunteer since 2014
Graduated from Drake University in May 2012 with a bachelor's degree in psychology with a concentration in behavioral analysis of developmental disabilities. Participated in Alpha Phi Sorority, Donald V. Adams Leadership Academy, Psi Chi International Honor Society in Psychology, Mortar Board Senior National Honor Society, Neuroscience Research Seminar, Development Research Seminar, and Sustainable Development in Sub-Saharan Africa Seminar – Uganda 2011
What are your main volunteer projects and secondary projects?
I am a youth and families development volunteer with a community orphanage. We have a capacity of 75 children, ranging from newborn to 18 years of age. I work at the orphanage full-time and do various tasks. I help co-teach a group of about 10 children, ages 2-4 in a daycare-like setting. I work in the Social Work office and assist the social workers and psychologists with case management, updating files and assisting on home visits and medical appointments. I offer after school English tutoring to the school aged children. I also work with about 12 youth, ages 9-17, in a small youth group. We meet bi-monthly for about two hours and I give workshops on life skills, self-esteem, values, behavioral management, positive communication and autonomy.
Outside of the orphanage, I help the Peace Corps Ecuador training staff with training sessions for host families and new trainees. I collaborate with the training staff on developing and presenting cultural and technical sessions.
How did your alma mater help prepare you for international service, or lead you to Peace Corps?
Drake University helped build the ground work for me to make my way in to the Peace Corps. My experience at Drake was a positive one; I loved my classes, the activities I was involved in and the many opportunities to grow academically, professionally and personally.
One person in particular at Drake, [Associate Professor of Psychology] Maria Valdovinos, had been my advisor in the psychology department. She is someone I always admired and looked up to, and I still do today. While I was at Drake, she challenged me to become a better student and to go outside of my comfort zone.  I have always respected her opinions and advice, and I would not have made it through some of my tougher times in undergrad without her as an advisor. I appreciate the professional and personal relationship that we have. After I graduated I wasn't sure exactly where I wanted to go with my bachelors in psychology. Dr. Valdovinos helped me narrow down my possibilities and that is when I decided to pursue my master's in Social Work. I applied to the University of Michigan School of Social Work and their Peace Corps Master's International program (where I can study and earn credit for my Peace Corps service) and here I am today!
Who inspired you to serve in the Peace Corps?
My family. They are the greatest support system and they always encourage me to work towards and achieve my goals. I wouldn't be able to do any of this without them.
What are your career aspirations?
When I complete my service in the summer of 2016, I will return to the University of Michigan School of Social Work to complete my last year of graduate school. I am then hoping to stay in the Midwest and find a job working with children, youth and families within the field of social work.
What's been your favorite part of service?
Living and working in Ecuador. Building amazing relationships with the children with whom I work. Learning Spanish. Having the current Peace Corps Director, Carrie Hessler-Radelet, visit me at my site and see the work I do. Learning more about myself and being challenged in ways I never thought possible.
About the Peace Corps: The Peace Corps sends the best and brightest Americans abroad on behalf of the United States to address the most pressing needs of people around the world. Volunteers work with their community members at the grassroots level to develop sustainable solutions to challenges in education, health, economic development, agriculture, environment and youth development. Through their service, volunteers gain a unique cultural understanding and a life-long commitment to service that positions them to succeed in today's global economy. Since President John F. Kennedy established the Peace Corps in 1961, more than 220,000 Americans of all ages have served in 141 countries worldwide. For more information, visit www.peacecorps.gov and follow us on Facebook and Twitter.