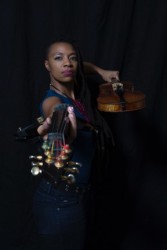 Violinist, social activist, and cultural ambassador
Mazz Swift
will deliver the 2015-2016 Myron "Mike" Marty Arts and Humanities Lecture at Drake University. The evening of collaborative performance and commentary is set for 7:30 p.m. Wednesday, March 2, in the Patty and Fred Turner Jazz Center, 2505 Carpenter Ave. The event is free and open to the public; tickets are not required.
Swift is an accomplished and internationally acclaimed performer, educator, and cultural ambassador. In addition to what her website describes as her "violin/vox/freestyle" performance, she has traveled to Suriname, Mozambique, Côte d'Ivoire, Ghana, Cameroon, Senegal, Albania, and Siberia as a cultural ambassador on behalf of the United States Department of State. She is also a teaching artist with Carnegie Hall's Musical Connections program. In that role, she has assisted in conducting workshops with inmates at Sing Sing Correctional Facility, worked with teenage boys at a minimum-security residence in Brooklyn, and led workshops in which teenage mothers-to-be write lullabies for their expected babies.
While in Des Moines, Swift will speak to classes and offer workshops at Drake and in the broader Des Moines community between February 29 and March 2. The three-day residency is sponsored by Drake's Center for the Humanities.
"Swift's combination of artistic success, international civic engagement, and social justice work will provide Drake students with the opportunity to learn from an artist who exemplifies the values of the University's mission statement," said Jennifer Harvey, professor of religion and director of the Center for the Humanities. "Her residency will facilitate conversations across multiple disciplines, including but not limited to music and performance; politics and international relations; women and gender studies; critical race studies and literature; and law, politics, and society.
Myron "Mike" Marty served as Drake's Dean of Liberal Arts from 1984-1986, when he oversaw the integration of the College of Liberal Arts and the School of Fine Arts. He continued to serve as Dean of the newly formed College of Arts and Sciences until 1994, when he joined the Department of History as the Ann G. and Sigurd E. Anderson University Professor, a distinction he still holds. He continued to teach and write until his retirement in 2002. In addition to uniting the Fine and Liberal Arts into a single College, Marty was instrumental in the founding and chartering Drake's Humanities Center and the Friends of Drake Arts. Because of his dedication to sustaining Arts and Humanities scholarship and programming at Drake, The Ralph and Sylvia Green Foundation has named the Center's Arts and Humanities Lectureship in his honor.