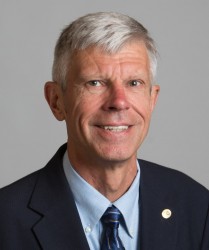 A physicist from Drake University is part of an international research team that has developed a new method of studying and controlling some of the fastest processes in nature. The research—outlined in a paper published by the prestigious Nature Photonics journal on Feb. 22—has numerous potential applications, which include providing the essential basis for the development of improved imaging procedures, more efficient industrial production processes, and new materials. Spin-offs from this research will likely also reach the area of medicine in the not-too-distant future.
Scientists have been working for years to observe fleeting atomic and molecular processes. A physicist and chemist at the California Institute of Technology won the 1999 Nobel Prize in Chemistry for his work in "femtochemistry," which observes and controls chemical processes occurring in a few millionths of a billionth of a second. That's the scale of time at which atoms make or break bonds in chemical or biological processes such as photosynthesis or combustion—but it's actually about 100 times slower than the timeframe observed in the present study.
The motion of electrons, which are the basis of chemical bonds, causes processes that unfold in tens or hundreds of attoseconds (a billionth of a billionth of a second). Klaus Bartschat, the Ellis and Nelle Levitt Professor of Physics at Drake University, is part of the team that was able to observe these processes with a time resolution of three attoseconds.
One way of understanding the researchers' accomplishment is to consider it analogous to the development of a camera with unprecedented short exposure time.
"When you look at a galloping horse, it is extremely difficult to determine with the naked eye whether there is a time when all four of the horse's legs have simultaneously left the ground," Bartschat said. "To answer the question, the process of high-speed photography was developed about 150 years ago, and people were then able to see the mechanics of that horse's gallop with new clarity. Essentially, this is akin to the new developments in our ability to view atomic and molecular processes using X-ray Free-Electrons Lasers (XFELs)."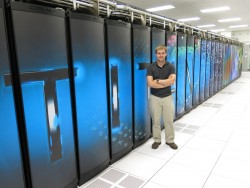 In addition to Bartschat, the team at Drake University involves Joel Venzke, a senior computer science, mathematics, and physics triple major, and Nicolas Douguet, a post-doctoral researcher. The large international collaboration consisted of groups from Italy (Elettra-Sincrotrone Trieste, the Politecnico of Milano, and three other national research institutes), Japan (University of Tohoku), Russia (Lomonosov Moscow State University), and Germany (Technical University of Berlin, University of Freiburg, European XFEL in Hamburg, and the Max Planck Institute for Nuclear Physics in Heidelberg).
Beyond the ability to observe the behavior of electrons, the experimentalists were even able to stir that behavior. By using a beam of light with two wavelengths (that is, two different colors), they devised a scheme to control the direction of emission of electrons ejected from an atom by the light.
Kevin Prince, a senior researcher at Elettra Sincrotrone Trieste who coordinated the project, noted, "The next step will be to apply the technique we have demonstrated to the study of more complex processes that occur on the attosecond scale, such as catalytic processes and atmospheric chemistry."
Venzke, an honorable mention for the 2015-16 Goldwater Foundation Scholarship in the sciences, has been working with Bartschat for about two years. He assisted with extremely complex computer programs and mathematical computations designed to predict the outcomes that researchers across the world could expect during the limited (and very expensive) "beam time" during which they ran their laser-powered experiments. Venzke worked alongside Douguet who joined Bartschat's group in June of 2015 and has since been involved in designing ever more elaborate schemes for controlling electronic behavior with XFELs.
"Performing research as an undergraduate has been a very rewarding experience," Venzke said. "It's one thing to learn about physics topics in a class, but I've been able to make an impact in the scientific community."
Venzke has logged computer time on Titan, the world's most powerful supercomputer for open science located at Oak Ridge National Laboratory in Tennessee, as well as several other large machines at various national supercomputer centers. Access for Venzke was possible by being a member of Bartschat's project within the eXtreme Science and Engineering Discovery Environment (XSEDE), which is funded by the National Science Foundation. All XSEDE machines are readily accessible via remote log-in from local computers at Drake University. In addition to learning the tools of the trade, Venzke has valued his opportunity to interact directly with faculty.
"Contributing to cutting-edge research has not only opened my eyes to the scientific process, it opened doors to my future," Venzke said. "The research I have done and connections I have made at Drake have given me the extra edge I needed to be accepted to some of the top physics graduate programs in the country."