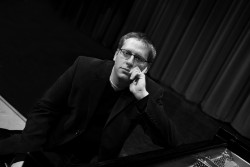 Nicholas Phillips, associate professor of piano at University of Wisconsin-Eau Claire, will present the next concert in Drake University's Keys to Excellence Piano Series. The event is free and open to the public and begins at 7:30 p.m. Monday, Feb. 8 in Sheslow Auditorium, 2507 University Ave. The concert features the following eclectic mix of modern compositions in a program entitled "Playlist for a New Generation":
Eine Kinda Bachmusik, Part 2 (2006) from 3 Preludes to Missing the Point   
Doug Opel (b.1967)
Tango Gardél (2007)      
Stacy Garrop (b.1969)
A Hudson Cycle (2005)     
Nico Muhly (b.1981)
The Currents (2012)      
Sarah Kirkland Snider (b.1973)
First Ballade (2008)              
Judd Greenstein (b.1979)
Shards (2008)     
Jonathan Pieslak (b.1974)
White Moon Over Water     
Carter Pann (b.1972)
She Steals Me
Carter Pann (b.1972)
Hommage à Trois (2005)                                        
Mark Olivieri (b.1972)
Luca's Swell: Hommage à Aaron Copland
Gestures: Hommage à Toru Takemitsu
Funk for Nikki: Hommage à James Brown
Described by the New York Times as an "able and persuasive advocate" of new music, pianist Nicholas Phillips' playing has been praised for its "bejeweled accuracy" (Fanfare) and as "razor-sharp yet wonderfully spirited" (American Record Guide). He is active as a soloist and collaborative artist; recent performances include solo recitals in Lithuania, Korea, and Argentina, as well as dozens of states across the U.S., and an invited performance at the Croatian Embassy in Washington, D.C.
Phillips has given lecture-recitals and presentations at conferences in the U.S., Argentina, Croatia, England, and South Korea. He is the author of "Mendelssohn's Songs without Words Revisited: Culture, Gender, Literature, and the Role of Domestic Piano Music in Victorian England," published by VDM Verlag. In 2011 he released two CDs on Albany Records; Portals and Passages, which features the piano music of American composer Ethan Wickman (b.1973), and Boris Papandopulo: Piano Music. His most recent CD, American Vernacular: New Music for Solo Piano (New Focus Recordings), features commissioned works written for him on that theme by 10 American composers.
He holds degrees from the University of Missouri-Kansas City Conservatory of Music, Indiana University, and the University of Nebraska-Lincoln and is currently Associate Professor of Music at the University of Wisconsin-Eau Claire. For more information, please visit www.nicholasphillips.net
The Keys to Excellence concert series was created to raise awareness of Drake's fundraising efforts for the purchase of 70 brand new Yamaha pianos for the music department. It brings internationally acclaimed artists to perform on the Yamaha CFX concert grand at Drake University.
The series is sponsored by Yamaha, West Music, Civic Music Association, and Drake University. For more information, contact Nicholas Roth at 515-321-5947 or Nicholas.Roth@Drake.edu
KEYS TO EXCELLENCE PIANO CONCERT SERIES 2015-16: 
OCTOBER 26: Francine Kay – Princeton University
NOVEMBER. 30: Nicholas Roth – Drake University
FEBRUARY 8: Nicholas Phillips – University of Wisconsin Eau Claire
MARCH 28: Ani Gogova
APRIL 18: Daniel Shapiro – Cleveland Institute of Music.
All performances begin at 7:30 p.m. in Sheslow Auditorium and are free and open to the public.