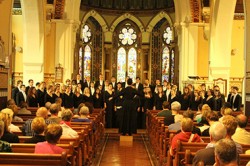 Drake Choir is sponsoring several upcoming events to support their 2016 concert tour of Latvia, Estonia, and Finland.
The choir is currently accepting orders for Singing Valentines, to be delivered from 9 a.m. to 8 p.m. Friday, Feb. 12 and 2 to 8 p.m. Saturday, Feb. 13. The choir will deliver Valentines to the entire Des Moines metro area, including West Des Moines, Clive, Johnston, Windsor Heights and Urbandale. Students will also deliver to Ankeny, Altoona, Waukee and Norwalk after 5 p.m. on Feb. 12 and from 2 p.m. to 8 p.m. on Feb. 13.
The choir offers four different Singing Valentine packages, including:
Bulldog Ballad, available only to Drake students and delivered to campus locations, offers a single rose and song for $10.
True Romance delivers a song and single romantic rose for $30.
Cupid's Favorite, which offers a song and six of the finest roses for $45.
Hopeless Romantic brings a special song and a full dozen roses for $65.
Singing Valentines can be ordered by calling 515-271-3024, or online at www.drake.edu/valentines. All orders must be received by Saturday, Feb. 6.
Drake Choir is also hosting a benefit concert at 7:30 p.m. Saturday, Feb. 20 in Sheslow Auditorium, Old Main, 2507 University Ave. The concert will feature vocal jazz, Broadway tunes, opera, pop and folk music, as well as a variety of choral works.
Tickets are $25 per person and are available until Friday, Feb. 12 at www.drake.edu/choralperformances. Tickets will not be mailed, but will be available for pick-up in Sheslow lobby beginning at 7 p.m. on the night of the performance.
Donations to the 2016 concert tour can also be made at www.drake.edu/choralperformances.