Welcome to Caucus Day 2016!
SJMC students are getting a front row seat to the political action by helping out with media and campaigns all over town — and being the first in line at 4 a.m. this morning to be in the "studio audience" for NPR's "Morning Edition" at Smokey Row coffee house east of campus (above). The team from "PBS NewsHour" has been camped out in Meredith Hall since Friday and BBC is across campus.
Reminder about Carla's retirement party
SJMC dean's assistant Carla McCrea is retiring on Feb. 10 after 28 years at Drake. Come wish her well at a reception this Friday, Feb. 5, from 3-4:30 p.m. in the back lobby of Meredith Hall.
SJMC welcomes 15 prospective students to campus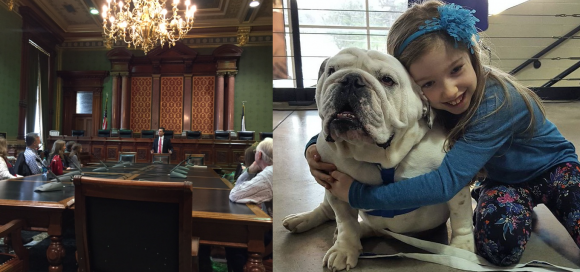 SJMC faculty, current students and alumni welcomed 15 prospective students and their families for "Create Your Future in Drake SJMC," a special admitted student day on Saturday, Jan. 30. Guests experienced virtual reality and other fun media tools, participated in a mock caucus and enjoyed a lively panel discussion featuring current SJMC students (Austin Cannon and Madi Holmes) and alums (Katie Popp, Adam Lackey, Samantha Thorpe and Amy Schmelzer). Six families were treated to a private tour of the Iowa State Capitol led by alum Larissa Wurm Skipworth, featuring SJMC alums and current state representatives Zach Nunn and Abby Finkenauer. Seven families enjoyed the Drake men's basketball game (Drake won!), and they even got to meet our favorite bulldog, Griff.
Ad Principles adapted for global initiative
Professor Dorothy Pisarski's JMC 76 Advertising Principles class has joined other Drake classes to align with the principles of the Cultures and Languages Across the Curriculum Movement. The movement aims to make global competence a reality for students and to help educators share best practices on ways to incorporate an international dimension throughout curricula.
Three JMC 76 assignments can be prepared in English or in another language in which the student has proficiency.  One assignment also may include looking at advertising in Spanish and analyzing the advertising in either Spanish or English.
PR class meets with cancer charity
Representatives from Above and Beyond Cancer met with students in Assistant Professor Thornton's Public Relations Planning and Management class last week.  The class is working with the Des Moines area nonprofit to help promote the organization's cancer survivorship programs. Brad Anderson, ABC's Executive Director, and Mary Van Heukelom, Health and Fitness Director, visited with students about the goals of the organization and ways to advance its mission of elevating the lives of those touched by cancer.