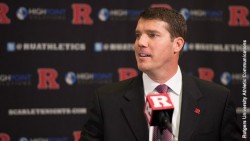 Only the University of Iowa and the University of Alabama have produced more current FBS head coaches than Drake.
Drake University has a long tradition of making what Head Coach Rick Fox likes to call "Impact Men"—men with a burning desire to do something great with their lives.
Three of Drake's more recognizable "Impact Men" are Chris Ash, who played for the Bulldogs from 1992–95; Dave Doeren, who played from 1990–93, earning Academic All-America honors in 1993; and Charlie Partridge, who played from 1991–94.
Today all three alumni coach for Football Bowl Subdivision (FBS) teams. Ash was named the head football coach at Rutgers University in December, Doeren is in his third season leading the North Carolina State University football program, and Partridge is in his second season as head coach at Florida Atlantic University. Only the University of Iowa and the University of Alabama have produced more current FBS head coaches.
Ash, Doeren, and Partridge attribute their coaching success to their Drake experience.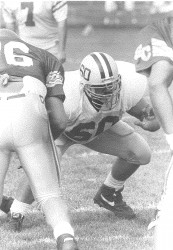 "Drake is one of the premier institutions in terms of developing people to be lifelong learners, because to continue to climb in our world you have to be willing to be a lifelong learner," Partridge said.
Ash credits where he is today to his involvement with the Drake football program.
"The work ethic, the discipline, the time management, the focus on academics, making good decisions and being a good person because of the people I was around—it all really helped my foundation, some of my beliefs, and how I do business," Ash said about his time at Drake.
Rob Ash (no relation), the program's all-time winningest coach—recording 125 wins from 1989-2006—coached and mentored the three of them and became a common factor in their careers, giving each their first college coaching job.
"The way he gave us a chance, he really allowed us and empowered us to coach young people," Doeren said.
"The things he allowed us to do, the places he allowed us to visit, the other coaches he allowed us to talk to, really exposed me to a lot of different things that I would not have been exposed to somewhere else. I really owe a lot to Rob and the program at Drake," Chris Ash said.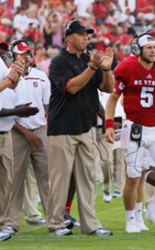 Doeren coached the Bulldogs' linebackers for two seasons (1995–96) before being named defensive coordinator in 1997. He left Des Moines to become a member of the University of Southern California staff in 1998. Partridge was on Ash's staff for two years (1996–97), while Chris Ash spent 1996 as a student assistant, becoming a graduate assistant in 1997, and eventually the Bulldogs' defensive coordinator in 1998 and 1999. Partridge and Ash both took opportunities at Iowa State University after their coaching stints at Drake.
"I knew they were going to be very, very successful," Rob Ash said. "I respect what these guys have done in their careers. There are a lot of other guys that have come up through the ranks that are still climbing up the ladder. I am hopeful that down the road there will be others who are a part of that Drake group—who are going to achieve at the highest level."
The three of them are grateful for the opportunities that Rob Ash and Drake gave them as they moved on to bigger and better things.
"We are proud Bulldogs, we really are," Partridge said.