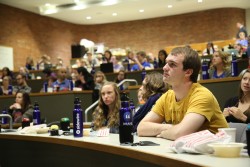 Drake University Student Senate, Drake College Republicans, Drake University Democrats, and the Drake Political Review will host a practice caucus at 7 p.m. Wednesday, Jan. 27, in the Shivers Basketball Practice Facility's hospitality suite in the Knapp Center on Drake's campus. The event will include a simulation of both the Republican and Democratic caucuses, and is designed for students, staff and faculty to learn how the Iowa Caucuses work.
With the 2016 Iowa Caucus being held on February 1 instead of early January, for the first time in years that college students in Iowa will be on campus and able to participate. Drake enrolls 3,300 undergraduate and 1,700 graduate students, many of whom will be first-time caucus-goers, from 40 states and approximately 40 countries. The event will allow students to experience their respective caucus process before caucus night.  
At 6 p.m., campaigns are invited to set up tables in the Prairie Meadows Atrium. All candidates and campaigns are invited. From 6 to 7 p.m., students can visit each table and learn about the candidates. Snacks will be served at 6:30 p.m., and at 7 p.m. the program will begin, with the simulation of a Republican caucus first, followed by the Democratic caucus. Results will be announced after the Democratic caucus, but the purpose of this event is to train students on the caucus process, and encourage them to attend their own precinct caucus on February 1, rather than to provide an accurate representation of students' candidate preferences.
Media is invited beginning at 6 p.m., and at 7 p.m. there will be an area reserved for press. This is also an opportunity for media who have never experienced or covered a caucus to see how the process works. Media who wish to attend should RSVP to Jack Hellie at jack.hellie@drake.edu.
Drake University Student Senate, College Republicans, Drake Democrats and the Drake Political Review are student-run organizations on campus working together to educate and engage the Drake community in the political process.
Drake students are among those Iowans who will caucus at four Republican precincts and one Democratic precinct on the University's campus on February 1.
For more information, contact Jack Hellie at jack.hellie@drake.edu.