Students study campaign communication strategies at rallies for Clinton, Carson, and other presidential candidates prior to the Iowa caucuses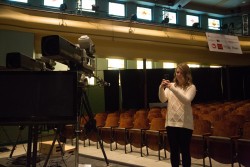 In a single week, Drake University sophomore Samantha Ohlson spent eight hours at a Hillary Clinton campaign rally in Council Bluffs, four hours at a Putting Families First presidential forum in Des Moines, two hours at a Ben Carson event in Pleasant Hill, and nearly eight hours behind the scenes and in the crowd of the Iowa Black and Brown Forum for Democratic presidential candidates on Drake's campus.
In short, she's had an up-close, bipartisan look at one of the most competitive campaign cycles in years—and it's all for course credit.
Iowa's first-in-the-nation caucuses are the classroom for Ohlson and 25 other students enrolled in Jennifer Glover Konfrst's "Political Messaging in the Iowa Caucuses" course. Students majoring in areas ranging from politics to accounting to public relations dedicated three weeks over the January Term to evaluating candidates' campaign messaging strategies ahead of the Feb. 1 caucuses.
"It's an unparalleled crash course in political communications," says Konfrst, assistant professor of journalism and director of Drake's Strategic Political Communications program. "Students spend three weeks taking no other courses, focusing on the caucuses and only the caucuses, and we spend one hour a day in the classroom. I would hate to have students come to class rather than attend a political event."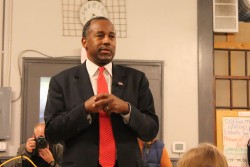 Gaary Teow, a junior actuarial science major from Malaysia, said he had very little knowledge of U.S. presidential politics prior to enrolling in the class. His first campaign experience was a memorable one—a Ben Carson rally at Northside Cafe in the central Iowa city of Winterset (pop. 5,100).
Despite arriving with tickets in hand, Teow and his classmates waited in line for 30 minutes—in the cold—before being told the room was full. They waited another hour with a crowd of voters in an adjacent room, where Carson eventually joined them for a post-event meet-and-greet.
"A friend told me, 'A caucus event is not supposed to be like this,'" Teow said. "I expected the process to be more organized. Still, I think the [political] process works well, and it is pretty fun to compare it to the political system in Malaysia."
As a course requirement, students publish stories to IowaCaucusProject.org, a comprehensive resource for information related to the Iowa Caucuses. Each will also write a paper analyzing a candidate's messaging strategy, and write a final paper that predicts the winner of the caucuses. At the conclusion they'll be more engaged citizens and voters, explains Konfrst, as well as more informed and critical consumers and producers of media.
Even the politics junkies among them are reaping the benefits. Ohlson, who has paid particular attention to the reaction of the crowds at various candidates' events, said: "It helps me think about politics in a different way than I would have, if I'd gone to these rallies on my own."