It's an eventful year ahead with caucuses, construction, competition, commitment, camaraderie, and courses. Save the date for these six events happening in 2016 at Drake University.
There are so many exciting things happening on campus in 2016. Follow us through a year of transformation!
1. Caucuses
Drake becomes the caucus capital of Des Moines on February 1. The University will be host to five caucus precincts while national and international media outlets watch students engage in the process. Learn more about how Bulldogs are making the caucuses their classroom in this story about the "Political Messaging in the Iowa Caucuses" J-Term course.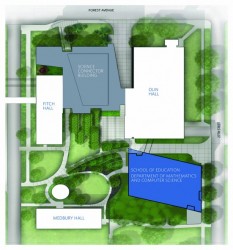 2. Construction
Ground will be broken south of Olin Hall in February—the next step in Drake's evolving interdisciplinary learning environment. The finished building will be home to the School of Education, the math and computer science departments, and the Robert D. and Billie Ray Center, and is a critical component of the STEM@DRAKE initiative.
If you're back for Drake Relays, stop by to see construction progress. Check your Official Guide to Drake Relays Week 2016 for information on a construction site tour on Saturday, April 30. The guide will land in your mailbox in February.
3. Competition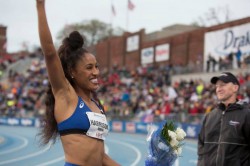 The Rio Olympic Games begin August 5, but the competition starts closer to home at the 107th Drake Relays. While the athletes haven't officially been announced, Relays Director Brian Brown promises fans that the Blue Oval will be a preview to the summer Olympics.
This longstanding tradition is embraced by all alumni, and this year brings more to the 107th Relays than just athletes. (See numbers 4 and 5 below). Bulldogs can return to campus for the All-Alumni Tent Party and the Young Alumni Brunch (2005–2015 graduates). Learn more at www.alumni.drake.edu/relays.
4. Commitment
The ceremonial mace and presidential medallion. The velvet trimmed gowns, speeches from visiting dignitaries, and musical interludes. The inauguration ceremony marking the installation of a new president and the transfer of leadership at Drake University encompasses a rich history of pageantry, pomp, and circumstance representing long-held traditions on campus and in all of academia.
The inauguration—on April 28 at 1:30 p.m. in the Knapp Center—will mark only the 12th such changing of the guard and 13th president in Drake's 135-year history. Join the community in welcoming Drake's 13th president, Earl F. "Marty" Martin. 
5. Camaraderie
Affinity reunions, rather than class reunions, have gained popularity in recent years, providing a way for alumni who shared the same interests, majors, and/or activities as students to connect.
The School of Journalism and Mass Communication saw success with its first reunion in 2013, and has continued the tradition during Relays each year since. Along with another SJMC reception this year, there will also be a reunion for Pharmacy alumni, and two first-ever reunions: the LGBT Alumni Brunch and the Black Alumni BBQ.
6. Courses
Drake's STEM-related disciplines continue to expand. Students are already working toward degrees in data analytics and kinesiology, as well as STEM endorsements for elementary and secondary education majors.
Students will begin coursework this summer toward an Occupational Therapy Doctorate degree. Programs in pre-occupational therapy and pre-athletic training launch this fall.