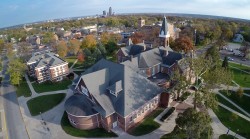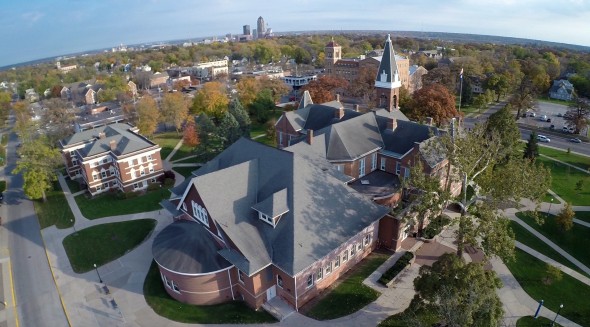 For the second time this election cycle, the Democratic presidential candidates will take the stage in Drake University's Sheslow Auditorium for a nationally televised event to discuss issues of vital interest to voters.
Drake will be the site of the Iowa Brown and Black Presidential Forum for Democratic candidates on Monday, Jan. 11, 2016. The event invites each candidate to discuss his or her stance on issues that matter to America's growing multicultural population. Former Secretary of State Hillary Clinton, former Gov. Martin O'Malley, and Sen. Bernie Sanders have all confirmed their participation.
Fusion television network will broadcast the event, organized in partnership with the non-partisan minority issues forum co-chaired by Latino leader Mary Campos and former Iowa State representative Wayne Ford.
Fusion anchors Jorge Ramos (@JorgeRamosNews) and Alicia Menendez (@AliciaMenendez) will be joined by Fusion contributor Akilah Hughes (@AkilahObviously) and New York Magazine Writer-at-Large Rembert Browne (@Rembert) as questioners during the forum.
"Fusion is committed to elevating voices that reflect the diversity that makes our country strong. With Jorge, Alicia, Akilah, and Rembert we have brought together dynamic and distinct group of voices, steeped in news, politics and culture, to question the candidates on the issues that matter to our young, multicultural audience," said Fusion CEO Isaac Lee.
This marks the first presidential forum Fusion will host since the network's launch in October 2013. The Iowa Brown and Black Forum will be broadcast live from Drake's campus in Des Moines, Iowa, at 7 p.m. CT on January 11 and live-streamed on FUSION.net, YouTube, and Facebook. The forum will be re-broadcast in Spanish on UniMas at 10 p.m. CT.
Billed as the oldest forum addressing minority issues, the Iowa Brown & Black Presidential Forum is an element of Urban Dreams' non-partisan Project V.O.T.E. (Voting Opportunities Through Education). It is the nation's only presidential forum in which all candidates have the opportunity to answer essential concerns of African-Americans and Latinos. The non-partisan event began in 1984 and has figured prominently in the Iowa caucuses. It is recognized as the oldest continuous minority forum for presidential candidates in America and one of the longest-running presidential forums in the nation.
"We are excited about the selection of moderators for the Iowa Brown & Black Presidential Forum being held on Monday, January 11, 2016, in Sheslow Auditorium on the Drake University Campus in Des Moines, Iowa," said Ford and Campos. "We've been recently discussing the need to pass the Brown & Black Forum 'baton' on to the next generation. Jorge, Alicia, Akilah, and Rembert will generate excitement among the millennials and take the Forum into the future."
Clinton, O'Malley, and Sanders also took to the Jordan Stage at Sheslow Auditorium on Nov. 14, 2015, for a nationally televised presidential debate broadcast by CBS News and KCCI, in conjunction with The Des Moines Register. The debate created tremendous opportunities for Drake students; read a recap here.
Drake University is committed to an open and productive exchange of ideas, allowing free and informed discussion of political affairs. As a tax-exempt educational institution, Drake University does not endorse or oppose any party or candidate for public office.
—This news release adapted from FUSION's news release.