J Term classes brighten winter days in Meredith Hall
Students participating in SJMC-taught January Term classes are creating a buzz around Meredith Hall and around the state this month:
Professor Lee Jolliffe's visual communication class is making fun use of the TV studio green screen and non-SJMC majors in Professor Kelly Bruhn's PR principles students are learning all about public relations.
Students in Professor Jennifer Konfrst's Political Messaging in the Iowa Caucuses class are studying political communication by presidential campaigns and then attending candidate events around the state. Follow their work at http://iowacaucusproject.org/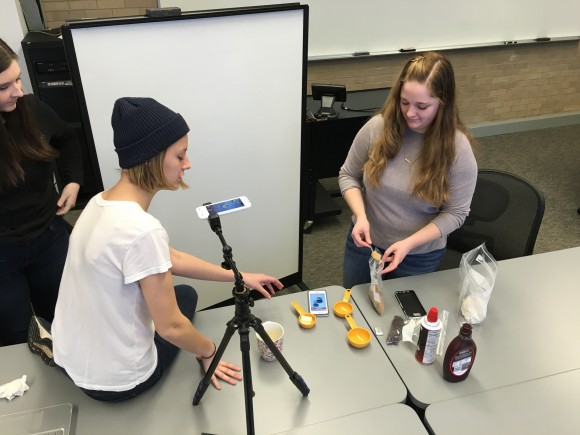 Professor Chris Snider's social media strategies students are shooting "cooking" videos and other cool stuff: https://www.facebook.com/drake.social.media/
SJMC internship coordinator Carlyn Crowe is helping to teach a class on the recorded music industry, led by Sony Music exec Tobi Parks. Students are getting a peek behind the curtain and working on business plans, promotions and events for the Des Moines Social Club's Station 1 Records.  The final class project is a live show at Lefty's on Saturday, Jan. 23, starting at 5 p.m. featuring one of the Station 1 Record Label bands.  Mark your calendar and be there!
Pisarski leads J Term seminar to Chile
Advertising Professor Dorothy Pisarski is helping to teach a January Term travel seminar to Chile. Tag along by following the blogs. The class hub will be https://jtermchile2016.wordpress.com/. The student blogs are: