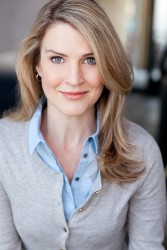 Bridget Flanery's on-camera workshops introduce students to a special brand of acting that has landed this adjunct professor of theatre multiple roles on television. On a recent Saturday, so many participants showed up to learn from her experiences on Two and A Half Men, Desperate Housewives, Will and Grace, Hart of Dixie, Without a Trace, and Babylon 5 that she had to extend the workshop by several hours.  
"I wanted to share my experiences and success with students, and I'm so excited to be back at Drake and working with such talented faculty and students.
Flanery, FA'92, first came to Drake from small-town Iowa, where her theatre experience consisted of high school roles that were available for the taking and stage productions created and produced almost as an afterthought.
"Once I got to Drake I was petrified," she recalls. "The talent here was so good."
She settled in quickly under the tutelage of William S.E. "Doc" Coleman, and the two remained fast friends until his death earlier this year. As her professor in that first year, Doc encouraged her, mentored her, and assured her that if she worked hard, she would succeed.
The William S.E. "Doc" Coleman Studio Theatre
To honor the legacy of Drake Theatre chair and professor William S.E. "Doc" Coleman, who passed away July 8, 2015, theatre alumni have collaborated on an initiative to ensure his name lives on for future generations of theatre students and faculty.
A campaign for $50,000 will support the renovation of the current studio theatre in the basement of FAC and christen it the William S.E. Coleman Studio Theatre. Gifts can be made online at www.alumni.drake.edu/studiotheatre or by contacting Blake Campbell at 515-271-3077 or blake.campbell@drake.edu.
She took his advice to heart. She studied her craft. She watched others who were better, and she learned from them. And she worked hard. She moved to Los Angeles after graduation and landed TV roles she soon outgrew. After earning an M.F.A. from Yale, she worked in New York stage productions before heading back to the west coast for opportunities on stage and screen.
And then an opportunity at Drake.
"It was a little strange walking in at first, but knowing I could be sitting in a chair that Doc sat in gives me hope that I can gain some of his talent, skill, and knowledge from osmosis."
The theatre department has changed since her time as a student, now focusing not only on skill development but also on the audition process and the business side of the industry—both ideas that Flanery embraces and hopes to build upon in her courses.
I didn't have any idea about the audition process," she says, recalling herself as a young graduate. "It just wasn't taught then. But I had a belief in my ability that I learned at Drake.
"I want my students to walk into any audition and be confident and know they can handle any curves thrown at them and develop ease and professionalism in the audition room," she says. "I also know I have knowledge to share, and I am eager to do that. I was so lucky when I was here as a student. There was such a high caliber of instructors and actors and they demanded the best from me."