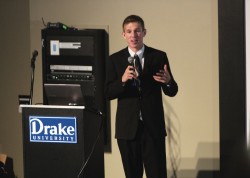 A Drake University junior whose nonprofit organization provides free sports clinics to children in Greater Des Moines was recently honored for his significant philanthropic contributions.
The Central Iowa Chapter of the Association of Fundraising Professionals issued Dylan DeClerk its "Outstanding Youth in Philanthropy" award during a Philanthropy Day Awards program on Friday, Nov. 13. DeClerk, a marketing and finance major, is executive director of Opportunity on Deck, which has benefited hundreds of students.
"The best part about receiving this award is the recognition it brings to Opportunity on Deck and the connections it will help us build in the community," DeClerck said. "Personally this award makes me feel proud of everything our volunteers were able to accomplish in the community since inception."
DeClerck founded Opportunity on Deck in 2012. The organization teaches healthy living, athletics skills, teamwork, community, leadership, and sportsmanship to children who may otherwise have been denied such an opportunity. The organization has saved participant families more than $100,000 in costs by providing free clinics thanks to the organization's generous sponsors. Participants are fed healthy snacks at the end of each clinic, and get to keep their equipment (jerseys, cleats, etc.) at the end of each season.
"As a child, I was given every opportunity and chance to be successful," DeClerk said at the awards ceremony. "Now as a young adult, it is my responsibility to create the opportunity I was afforded for other children who want to be successful."
DeClerk founded Opportunity on Deck when he was 16 years old, and he had the opportunity to enhance the organization as a participant in The Lorentzen Student Hatchery program at Drake University. The program fosters student startup businesses and nonprofits through guidance and support, access to mentors and experts, and other resources. As a result of his involvement, DeClerk quadrupled the number of leagues and level of student participation in Opportunity on Deck through partnerships with Clive and Des Moines Parks and Recreation, the Boys and Girls Club of Central Iowa, and the Oakridge Neighborhood.
"The Lorentzen Student Hatchery helped transform Opportunity on Deck from a small project serving one neighborhood in Des Moines, to a successful non-profit organization with a variety of programs serving multiple neighborhoods in Central Iowa," DeClerck said. "The most valuable part of the program was the mentorship provided by other business owners in Des Moines and the Drake University Entrepreneurship professors."
Also honored at the Philanthropy Day Awards were:
Thomas K. Koehn, who earned a Master of Business Administration from Drake University in 1981, and Linda W. Koehn, were named "Outstanding Individual Philanthropists" for their longtime support of The Community Foundation of Greater Des Moines and United Way of Central Iowa; their gifts of time, talent and treasure to the Greater Des Moines Botanical Garden, Des Moines Symphony, Des Moines Metro Opera, and Variety—The Children's Charity; and their involvement with other charity events and service organizations.
Steve Chapman, a 1973 graduate of Drake University's College of Business and Public Administration, was named "Outstanding Volunteer Fundraiser" for his work on campaigns for ChildServe, Yes for Valley, Boy Scouts of America, Greater Des Moines Partnership, Easter Seals, American Heart Association, and the American Diabetes Association, among other organizations. He has also served on the United Way of Central Iowa's campaign committee annually since 1991.
Johnny Danos, former president of the Community Foundation of Greater Des Moines, received the "Spirit of Philanthropy Award." The foundation grew from a $19 million enterprise when he became president in 1998, to one than had raised more than $170 million when he retired in 2008. He has also volunteered with the United Way of Central Iowa, the Broadlawns Advocacy Center for Mental Health, Above + Beyond Cancer, Iowa Society for Economic Success, Gray's Lake, Water Works Park, Hoyt Sherman Place, Orchard Place, Des Moines Symphony, and Greater Des Moines Botanical Center.
Sammons Financial Group was named "Outstanding Corporate/Foundation Philanthropist" for its commitment to make a difference for the community through its commitment to employee volunteerism, employee gift-matching program, and sponsorship of charities and charitable events.
The event was emceed by Steve Berry, a graduate of Drake University and Drake Law School and the vice-president of the Drake University National Alumni Board of Directors.